---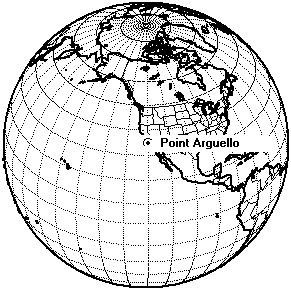 Point Arguello
Credit: © Mark Wade
The US Navy had established a Naval Air Facility at Point Mugu for cruise missile test in November 1945. After the Air Force had acquired the northern part of Camp Cooke from the Army for use as Vandenberg AFB, the surplus southern portion of the former camp, encompassing over 19,800 acres, was transferred to the U.S. Navy in May 1958. The Navy subsequently established a Pacific Missile Range with headquarters at Point Mugu and instrumentation sites along the California coast and at various islands in the Pacific.
The land acquired from Camp Cooke became the Naval Missile Facility at Point Arguello, a major launch head and range safety centre for all ballistic missile and satellite launch operations conducted within the PMR.
On November 16, 1963, the Air Force was given central authority to coordinate planning of ICBM and space vehicle launching and tracking networks on a worldwide basis. This resulted in transfer to the Air Force of major portions of the Navy's Pacific Missile Range, including its facility at Point Arguello in July 1964.
Point Arguello was named in 1793 by English navigator Captain George Vancouver (1757-1798) in honor of Don Josť Dario Arguello, then Commandante at Monterey, California.
Location: Naval Missile Facility, California.
Longitude: -120.6000 deg.
Latitude: 34.6200 deg.

More... - Chronology...
---
---
---
Associated Countries
---
See also
---
Associated Manufacturers and Agencies
---
Bibliography
McDowell, Jonathan, Jonathan's Space Home Page (launch records), Harvard University, 1997-present. Web Address when accessed: here.
Official Site of the Topic, Information obtained from the manufacturer or operator's official web site.
---
Associated Launch Sites
Point Arguello WADZ Air-launched rocket drop zone known to have been used for 28 launches from 1990 to 2007, reaching up to 4539 kilometers altitude. More...
---
Home - Browse - Contact
© / Conditions for Use
---