---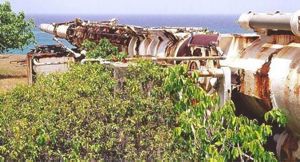 Project HARP 16 inch
Used with permission of
Stephen E. Mendes
- visit his
Barbados Photo Gallery
Credit: © Stephen E. Mendes

Project HARP 16 inch
Used with permission of
Stephen E. Mendes
- visit his
Barbados Photo Gallery
Credit: © Stephen E. Mendes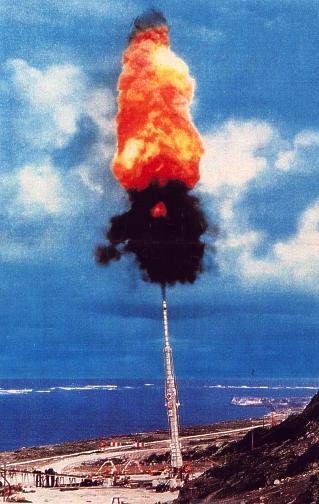 HARP 16 inch gun
Guncotton propellant rocket stage. Loaded/empty mass 450/1 kg. Thrust 127,000.00 kN. Vacuum specific impulse 365 seconds. The HARP gun, a converted 16 inch naval gun, was used during the 1960's to launch the Martlet series of rocket-launched space probes.
Using 450 kg of M8M propellant, with optimum web size, and a maximum muzzle pressure of 4100 atmospheres, the gun had the following performance:
250 kg projectile accelerated at 13,000 peak G's to 2,300 m/s muzzle velocity
500 kg projectile accelerated at 9,000 peak G's to 1,900 m/s muzzle velocity
750 kg projectile accelerated at 6,500 peak G's to 1,680 m/s muzzle velocity
1,000 kg projectile accelerated at 5,000 peak G's to 1,550 m/s muzzle velocity
'Specific impulse' indicated here is effective specific impulse for a 750 kg projectile. Due to muzzle dynamics, value differs for other masses of projectile. Diameter and length are that for the gun bore.
Release velocity: 1,072 m/s (3,517 ft/sec). Release altitude: 27 m (87 ft). Release angle: 0 deg. Release conditions: 298 m/s losses from muzzle exit velocity..
Location: 1072.
Status: Development ended 1966.
Gross mass: 450 kg (990 lb).
Unfuelled mass: 1.00 kg (2.20 lb).
Payload: 1,300 kg (2,800 lb).
Height: 36.59 m (120.04 ft).
Diameter: 0.42 m (1.37 ft).
Span: 0.42 m (1.37 ft).
Thrust: 127,000.00 kN (28,550,000 lbf).
Specific impulse: 365 s.
Specific impulse sea level: 43 s.
Burn time: 0.0100 s.
Number: 2 .

More... - Chronology...
---
---
---
Associated Countries
---
Associated Engines
---
Associated Launch Vehicles
Martlet 4 Canadian gun-launched orbital launch vehicle. The Martlet 4 was ultimate goal of the HARP program - a gun-launched orbital launch vehicle. Two versions were considered: a preliminary version with two solid propellant upper stages, and a later model with two liquid propellant upper stages. Payload of the liquid propellant version would have reached 90 kg. The initial version was in an advanced stage of suborbital flight test when the HARP program was cancelled in 1967. More...
Martlet 2G-1 Canadian gun-launched orbital launch vehicle. The Martlet 2G-1 was the absolute minimum gun-launched satellite vehicle. Conceived when the HARP project was under threat, it was a seven-inch diameter, two-stage solid propellnat vehicle that would be sabot-launched from the HARP 16 inch gun. Its total payload in orbit would have been just two kilogrammes - ideal for today's planned nano-satellites. Unfortunately even this minimum orbital launch vehicle could not be demonstrated before the program was shut down. More...
Martlet 3D Canadian sounding rocket. The Martlet 3D concept was intended to serve as a sub-orbital vehicle capable of lifting heavy payloads to satellite altitudes. The Martlet 3D was simply the first stage of the Martlet 4 vehicle ( Martlet 4A) with the two upper stages and the satellite payload being replaced with a single large payload. More...
---
Associated Propellants
---
Home - Browse - Contact
© / Conditions for Use
---