Home - Search - Browse - Alphabetic Index: 0- 1- 2- 3- 4- 5- 6- 7- 8- 9
A- B- C- D- E- F- G- H- I- J- K- L- M- N- O- P- Q- R- S- T- U- V- W- X- Y- Z
---
The Ballad of Dan McCann
---
Part of Space Poetry
---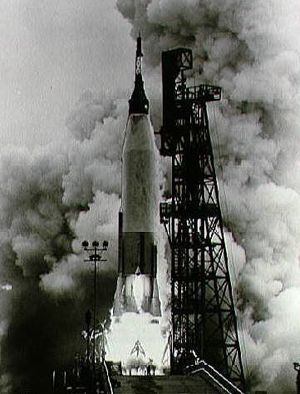 Atlas D Mercury BW
Credit: NASA
Poem:
Rockets shake the earth, the needle rises...
Rockets shake the earth, the needle rises
All his feelings were major surprises
So Dan McCann began his trip
And told the controller
Let 'er rip!

The blue sky out the window turned black
The tower jettisoned; no going back
So Dan McCann radioed to home
And told the controller
We're set to roam!

Sustainer shutdown; a moment of silence
Then the pryocords blew with extreme violence
And Dan McCann felt him self float
And told the controller
This is one fine boat!

The posigrades fired; the capsule was free
The autopilot spun the craft 'round axis Z
And Dan McCann took the hand grip
And told the controller
What a fabulous trip!

The thruster fired; but it did not close
A monster rotation 'round the X axis arose
And Dan McCann, his voice quite clipped
Was heard by the controller
To say 'oh f---king s--it!'

Contact was lost; no signal received
But radar skin paints were not deceived
The flight surgeon's voice, filled with dread
Informed the controller
Dan McCann -- was dead.

--Mark Wade
---
---
---
---
Back to top of page
---
Home - Search - Browse - Alphabetic Index: 0- 1- 2- 3- 4- 5- 6- 7- 8- 9
A- B- C- D- E- F- G- H- I- J- K- L- M- N- O- P- Q- R- S- T- U- V- W- X- Y- Z
---
© 1997-2019 Mark Wade - Contact
© / Conditions for Use
---