Home - Search - Browse - Alphabetic Index: 0- 1- 2- 3- 4- 5- 6- 7- 8- 9
A- B- C- D- E- F- G- H- I- J- K- L- M- N- O- P- Q- R- S- T- U- V- W- X- Y- Z
---
Detko ATV
---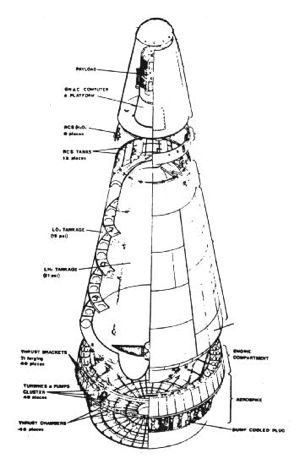 ATV
Credit: Gary Hudson
American SSTO VTOVL orbital launch vehicle. George Detko of NASA's Marshall Space Flight Center produced designs for SSTO vehicles as early as 1960. This final design for a minimum SSTO VTOVL vehicle was completed in 1972. The expendable vehicle had a gross liftoff mass of only 22 metric tons, and could deliver a two-person crew to orbit.
AKA: ATV. Status: Design 1972. Payload: 1,000 kg (2,200 lb). Gross mass: 22,000 kg (48,000 lb).
Alternatively it could be used to deliver as a rapid response transport to deliver critical goods anywhere on earth within 30 minutes. Detko continued to refine the design, proposing a reusable version in 1972. NASA managers remained indifferent to Detko's proposals, as was their attitude to all SSTO concepts. Detko's design was refined by Gary Hudson and Tom A Brosz and renamed the 'Aerospike Test Vehicle'. This was the precursor of Hudson's smaller Phoenix designs, notably the Phoenix L (light) and Phoenix L-Prime.
Crew Size: 2. LEO Payload: 1,000 kg (2,200 lb).
---
---
Family
:
Manned spacecraft
,
orbital launch vehicle
,
SSTO
.
People
:
von Braun
.
Country
:
USA
.
Spacecraft
:
ATV
.
Launch Vehicles
:
Detko ATV
.
Agency
:
NASA Huntsville
.
Bibliography
:
565
.
---
---
Back to top of page
---
Home - Search - Browse - Alphabetic Index: 0- 1- 2- 3- 4- 5- 6- 7- 8- 9
A- B- C- D- E- F- G- H- I- J- K- L- M- N- O- P- Q- R- S- T- U- V- W- X- Y- Z
---
© 1997-2019 Mark Wade - Contact
© / Conditions for Use
---