Home - Search - Browse - Alphabetic Index: 0- 1- 2- 3- 4- 5- 6- 7- 8- 9
A- B- C- D- E- F- G- H- I- J- K- L- M- N- O- P- Q- R- S- T- U- V- W- X- Y- Z
---
ISS Japanese Experiment Module
---
Part of ISS
---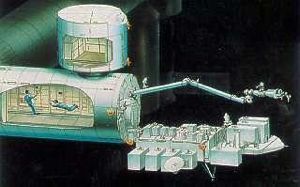 NASDA JEM 1999
Credit: NASDA via Marcus Lindroos
Japanese manned space station module. Launched to ISS in three sections, 2008-2009. The Japanese Experiment Module (JEM) has been a rare island of stability in the often tumultuous Space Station program.
AKA: Japanese Experiment Module;JEM;Kibo;JEM-PM;JPM. Status: Operational 2008.
Conceived in 1985, JEM consists of a pressurized laboratory mainly dedicated to advanced technology experiments, a logistics module, an unpressurized pallet for vacuum experiments in space plus a small robotic arm. The Japanese National Space Development Agency (NASDA) formally submitted the JEM proposal to NASA in March 1986. The Japanese Space Activities Commission recommended formal participation in the Space Station project five months later and the JEM design changed little since the mid-1980s.
In 1986 the Japanese contribution was estimated to be worth $1.9-3.2 billion for a JEM launch in 1995. By 1990, the schedule had slipped by three years due to NASA budget cuts and Space Station cost overruns. The delays increased the JEM's total cost slightly, from $2.3 billion in 1986 to $2.63 billion in 1993, when the launch was postponed to 1999. Final hardware production began in the mid-1990s and the Japanese robotic arm was tested on a NASA Space Shuttle flight in August 1997. According to plans prior to the Columbia disaster, the JEM would be launched in 2002-03. As of 2007 it appeared the facility would be orbited in 2008.
Like the other International Space Station modules, the interior of the Japanese Experiment Module (JEM) consisted of modular refrigerator-sized 'payload racks.' JEM had twelve such racks but some were required for the module's internal functions. Five racks were available for experiments.
---
More at: ISS Japanese Experiment Module.
---
Family
:
Space station module
,
USA - Space Stations
.
Country
:
Japan
.
Spacecraft
:
ISS
,
Cubesat
.
Launch Vehicles
:
Space Shuttle
,
Soyuz-2-1A
,
Falcon 9 v1.1
.
Agency
:
NASDA
.
---
Photo Gallery
---
---
NASDA JEM 1999
Credit: NASDA via Marcus Lindroos
---
---
NASDA JEM
NASDA Japanese Experiment Module. Japanese Experiment Module (JEM).
Credit: NASDA via Marcus Lindroos
---
---
Inside NASDA JEM
Inside Japanese Experiment Module. Like the other International Space Station modules, the interior of the Japanese Experiment Module (JEM) consists of modular refrigerator-sized "payload racks." JEM has twelve such racks but some are required for the module's internal functions. Five racks are available for experiments.
Credit: NASDA via Marcus Lindroos
---
---
---
Back to top of page
---
Home - Search - Browse - Alphabetic Index: 0- 1- 2- 3- 4- 5- 6- 7- 8- 9
A- B- C- D- E- F- G- H- I- J- K- L- M- N- O- P- Q- R- S- T- U- V- W- X- Y- Z
---
© 1997-2019 Mark Wade - Contact
© / Conditions for Use
---