Home - Search - Browse - Alphabetic Index: 0- 1- 2- 3- 4- 5- 6- 7- 8- 9
A- B- C- D- E- F- G- H- I- J- K- L- M- N- O- P- Q- R- S- T- U- V- W- X- Y- Z
---
Kosmos 3
---
Part of R-14 Family
---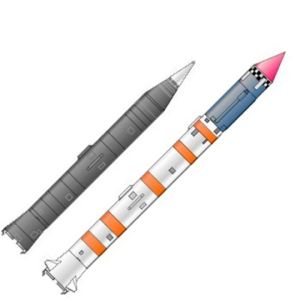 R-14/Kosmos 3M

Russian orbital launch vehicle. In 1961 Isayev and Reshetnev developed the Voskhod space launch system on the basis of the R-14 IRBM. The initial version of the two stage rocket was designated Kosmos-1. The first 'Voskhod' launch complex was at Baikonur, a modification of one of the pads at the R-16 ICBM launch complex 41.

Status: Active. First Launch: 1966-11-16. Last Launch: 1968-08-27. Number: 4 .
---
More at: Kosmos 3.
---
Family: orbital launch vehicle. Country: Russia. Spacecraft: Oscar, Strela-1, Strela-2, Tsiklon satellite, Tselina-O, Sfera, DS-U3-IK, Ionosfernaya, Strela-1M, Strela-2M, DS-U2-IK, DS-U2-IP, DS-P1-M, DS-U2-K, DS-U2-MT, DS-U2-GKA, Taifun-1, Parus, Aryabhata, Taifun-2, AUOS, Tsikada, GVM DS-U2-IK, Signe, Magion, Radio, Bhaskara, Taifun-1Yu, SSTL-70, BOR-4, Nadezhda, BOR-5, Strela-3, Informator, Orbcomm, Gonets-D1, Astrid, FAISAT, MicroSat-100, Early Bird, Astrid-2, Predvestnik, ABRIXAS, Megsat, SSTL-10, CHAMP, MITA, Rubin, Cubesat, Larets, STSat, Universitetskiy, Mesbah-2, SSETI Express, SAR-Lupe. Agency: AKO Polyot. Bibliography: 107, 116, 2, 272, 276, 279, 296, 42, 445, 474, 475, 476, 552, 554, 567, 6, 79, 81, 89, 99.
---
Photo Gallery
---
---
Kosmos 8K63 LV
Credit: © Mark Wade
---
---
---
1964 January 9 - . LV Family: R-14. Launch Vehicle: Kosmos 3.
R-12U and R-14U accepted into military service. - . Nation: Russia. Decree 'On adoption of the R-12U and R-14U shaft versions into armaments' was issued..
---
---
Home - Search - Browse - Alphabetic Index: 0- 1- 2- 3- 4- 5- 6- 7- 8- 9
A- B- C- D- E- F- G- H- I- J- K- L- M- N- O- P- Q- R- S- T- U- V- W- X- Y- Z
---
© 1997-2017 Mark Wade - Contact
© / Conditions for Use
---