Home - Search - Browse - Alphabetic Index: 0- 1- 2- 3- 4- 5- 6- 7- 8- 9
A- B- C- D- E- F- G- H- I- J- K- L- M- N- O- P- Q- R- S- T- U- V- W- X- Y- Z
---
LMI
---
Part of AS 2100 Family
---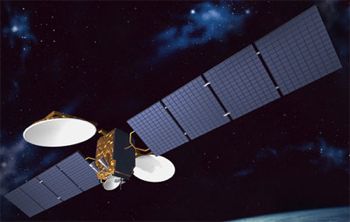 LMI-1
Credit: Manufacturer Image

Russian communications satellite. Lockheed Martin Intersputnik's LMI-1 satellite was a joint Russian-American venture. LMI-1 provided communications services to Eastern Europe and Central Asia. Communication satellite built by Lockheed Martin for Lockheed Martin Intersputnik (LMI) > Asia Broadcast Satellite (ABS), Russia. Launched 1999. Used the A2100AX bus.

Status: Operational 1999. First Launch: 1999-09-26. Last Launch: 1999-09-26. Number: 1 . Gross mass: 3,740 kg (8,240 lb).
---
More at: LMI.
---
Family: Communications, Geosynchronous orbit. Country: Russia. Engines: LEROS-1C. Spacecraft: LMI. Launch Vehicles: Proton, Proton-K/DM-2M. Launch Sites: Baikonur, Baikonur LC81/23. Agency: Martin, Lockheed. Bibliography: 2, 11347, 12764.
---
---
1999 September 26 - . 22:30 GMT - . Launch Site: Baikonur. Launch Complex: Baikonur LC81/23. LV Family: Proton. Launch Vehicle: Proton-K/DM-2M.
---
---
Home - Search - Browse - Alphabetic Index: 0- 1- 2- 3- 4- 5- 6- 7- 8- 9
A- B- C- D- E- F- G- H- I- J- K- L- M- N- O- P- Q- R- S- T- U- V- W- X- Y- Z
---
© 1997-2017 Mark Wade - Contact
© / Conditions for Use
---