Home - Search - Browse - Alphabetic Index: 0- 1- 2- 3- 4- 5- 6- 7- 8- 9
A- B- C- D- E- F- G- H- I- J- K- L- M- N- O- P- Q- R- S- T- U- V- W- X- Y- Z
---
Marshall, Frank
---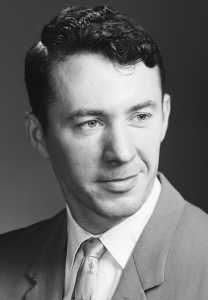 Marshall
Credit: via Richard Martin
American engineer. Part of the Atlas management team; headed the Golden Ram program that cleared the Atlas missile for operations.
Born: 1930-07-01. Birth Place: Johnstown, Pennsylvania.
After some college work, Marshall served in the US Air Force, including Korean War service, from 1949 to 1954. He graduated in electrical engineering from the University of Buffalo in 1955. While in college he did some part time work at Bell on rocket aircraft. Marshall was hired by Convair in 1956 and sent to Edwards as an instrumentation engineer, and then Vandenberg as ground support engineer for Atlas base activation. In 1958 he began a series of high-level engineering management positions on the Atlas program at Convair San Diego, culminating in heading up the Golden Ram program that cleared the configuration snarl and got the Atlas ICBM fleet operational. From 1962 Marshall was responsible for Centaur engineering support. .
He left Convair in 1968 when he was hired by Teledyne as a Vice President at Teledyne Ryan. He was president as several Teledyne subsidiaries before finally returning to rocketry as President of Marquardt in 1986. He retired from corporate life in 1989, but began a new career consulting and teaching at the University of Oklahoma.
---
---
Country
:
USA
.
Agency
:
Convair
.
Bibliography
:
4460
,
4475
,
5747
.
---
---
1930 July 1 -
.
---
---
Back to top of page
---
Home - Search - Browse - Alphabetic Index: 0- 1- 2- 3- 4- 5- 6- 7- 8- 9
A- B- C- D- E- F- G- H- I- J- K- L- M- N- O- P- Q- R- S- T- U- V- W- X- Y- Z
---
© 1997-2019 Mark Wade - Contact
© / Conditions for Use
---