Home - Search - Browse - Alphabetic Index: 0- 1- 2- 3- 4- 5- 6- 7- 8- 9
A- B- C- D- E- F- G- H- I- J- K- L- M- N- O- P- Q- R- S- T- U- V- W- X- Y- Z
---
MOL 6
---
Part of MOL Family
---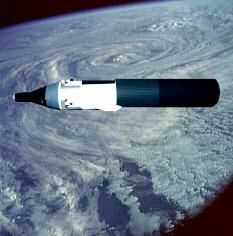 MOL seen from Gemini
MOL seen from Gemini over hurricane
Credit: © Mark Wade

Planned date of fourth manned MOL mission at time of the program cancellation. From the beginning of the project, the Navy had demanded that this be an all-Navy crew, which would limit the crew to Truly, with either Overmyer or Crippen as co-pilot.

Launched: 1974. Number crew: 2 .
---
---
People: Crippen, Truly.
---
---
1974 - . LV Family: Titan. Launch Vehicle: Titan 3M.
---
---
Home - Search - Browse - Alphabetic Index: 0- 1- 2- 3- 4- 5- 6- 7- 8- 9
A- B- C- D- E- F- G- H- I- J- K- L- M- N- O- P- Q- R- S- T- U- V- W- X- Y- Z
---
© 1997-2017 Mark Wade - Contact
© / Conditions for Use
---