Home - Search - Browse - Alphabetic Index: 0- 1- 2- 3- 4- 5- 6- 7- 8- 9
A- B- C- D- E- F- G- H- I- J- K- L- M- N- O- P- Q- R- S- T- U- V- W- X- Y- Z
---
Moore, John R
---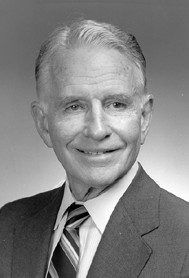 Moore

American engineer, developed pioneering inertial navigation and automated flight control systems for Navaho, leading to systems for the X-15, B-70, and Apollo, making North American the premier US contractor for advanced inertial navigation. Career at North American, and then Northrop, spanned 1955-1989.

Born: 1916-07-05. Died: 2007-07-13.

Moore graduated from Washington University with a Bachelor of Science Degree in Mechanical Engineering in 1937. He worked for General Electric in airborne gunfire and missile guidance systems until 1946. He worked for two years at the Washington University Research Foundation until being hired by North American Aviation as Leader of their Aerophysics Laboratory Electromechanical Group in 1948. Under his leadership the pioneering inertial navigation system and automated flight control systems for the Navaho intercontinental cruise missile were developed, which led to later systems for the Hound Dog cruise missile, X-15 and B-70 aircraft, and Apollo. His leadership made what became North American's Autonetics Division one of the premier American sources of expertise in advanced aircraft inertial guidance and control systems. Moore was named President of that division in 1960.

He was considered a prime candidate to become North American's President once Kindelberger retired and Lee Atwood moved up to the CEO position. After the acquisition of North American by Rockwell Corporation in 1967 Moore indeed became President of North American Rockwell. However things did not work out well with the new corporate headquarters, and by 1970 he moved to McDonnell Douglas where he founded and then became President of the Nitron McDonnell Douglas microelectronics subsidiary. He left McDonnell Douglas in 1978, then joined Northrop in 1979, eventually becoming General Manager of Northrop's Electro-Mechanical Division in 1985.

Moore was an accomplished engineer, reported to be debonair, a snappy dresser, and a lady's man.

Biography

Mr. John R. Moore

For leadership in the development of inertial navigation, especially in the early years when many thought that inertial navigation would never become practical.

Mr. John R. Moore has been in the high technology industry since 1937 and in management since 1941. He successfully ran "bottom line" business operations varying in headcount from 100 to 94,000. He is a graduate of the G.E. Advanced Course in Engineering (equivalent to D.Sc., except for languages and dissertation) and was a licensed aircraft pilot and head of airborne fire control sight and computer development during World War II. He led the Theoretical Section of G.E.ís first missile program. In 1946, he left G.E. to become an associate professor of mechanics at Washington University in St. Louis and director of its research foundationís Dynamical Control Laboratory.

In 1955, Mr. Moore became the first general manager of the newly formed Autonetics Division of North American Aviation and later president of the division. In 1966, he became vice president of NAA and a member of its board and executive committee. He was also a member of the North American Rockwell board and its executive committee - positions he held during the first Apollo program moon landings. Since retiring from Northrop in 1989, Mr. Moore has served as a consultant to high technology industry, a member of the board of directors of The Center for Space and Advanced Technology, an advisor to the Board of Scientific Applications & Research Associates, and as a member of various committees for the National Academy of Engineering (NAE), including the Time Horizons and Technology Investment Committee, the Presidentís Transition Advisory Committee, the NAE Special Fields and Interdisciplinary Sectionís Membership Applicant Review Committee, and as a member of the steering committee of the American Electronic Associationís Presidentsí Round Table. Mr. Moore was elected to the NAE in 1978. He is a fellow of the Institute of Electrical and Electronic Engineers and the American Institute of Aeronautics and Astronautics. He has been awarded more than 25 patents, written scores of papers on technical and management subjects and served on seven Department of Defense committees, including the Air Force Scientific Advisory Board and the Army Science Board. He has also served on ten state and local government, civic and university committees. He is the recipient of 9 major achievement awards from professional societies, DoD, industry, and universities, and holds an honorary doctor of science from West Coast University.
---
---
Country: USA. Bibliography: 4472, 4475, 5797.
---
---
Home - Search - Browse - Alphabetic Index: 0- 1- 2- 3- 4- 5- 6- 7- 8- 9
A- B- C- D- E- F- G- H- I- J- K- L- M- N- O- P- Q- R- S- T- U- V- W- X- Y- Z
---
© 1997-2017 Mark Wade - Contact
© / Conditions for Use
---