Home - Search - Browse - Alphabetic Index: 0- 1- 2- 3- 4- 5- 6- 7- 8- 9
A- B- C- D- E- F- G- H- I- J- K- L- M- N- O- P- Q- R- S- T- U- V- W- X- Y- Z
---
North, Warren J
---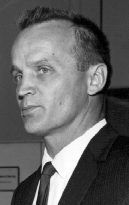 North
Credit: NASA

American engineer, at NASA 1947-1985. Oversaw training of Mercury, Gemini, Apollo, and shuttle astronauts.

Born: 1922-04-28. Died: 2012-04-10.

Warren J. North earned a B.S. from the University of Illinois in 1947. From then until 1955 he was an engineer and test pilot for the Lewis Laboratory. From 1956-1959 he served as assistant chief of the aerodynamics branch at Lewis. He then transferred to NASA Headquarters, where he took part in early planning for Project Mercury, including the selection and training of the seven Mercury astronauts. He moved in 1962 to the Manned Spacecraft Center (later the Johnson Space Center), where he headed the division responsible for training the astronauts for the Gemini rendezvous and docking operations and the Apollo lunar landings. He continued to work in the fields of astronaut selection and training until he retired in 1985 as special assistant to the director of flight operations in planning space shuttle crew training.

Obituary: North, Warren J Born April 28, 1922, loving husband, father and grandfather, closed his eyes for the last time on April 10, 2012. Even as a child growing up on an Illinois farm he dreamt of learning to fly. His pursuit of that dream shaped his life and his career. He was a pilot in WW II, worked as an engineering test pilot at Lewis Flight Laboratory in Cleveland, Ohio, specializing in turbojet noise research and missile design. After earning a bachelor of Science degree from Purdue and two masters degrees in aeronautical engineering from Case and Princeton, he participated in the formation of NASA, served on the selection team for the seven original astronauts, completed rigorous astronaut training with them, worked on Projects Mercury, Gemini, and Apollo and rose to one of the most important positions at NASA, Chief, Flight Crew Operations Division, Manned Spacecraft Center, Houston, Texas. Astronaut selection, training, evaluation and designs for spacecraft operations were all part of his job description. He ended his illustrious career at NASA by retiring in 1985. After retiring, he built his own plane and continued to fly until a year before his death. True to his nature, he also took on a new challenge. His aunt, Romalda Spalding, the author of a highly effective method of teaching reading, asked Warren to establish a non-profit foundation to train teachers in her method. Characteristically, Warren enrolled in her reading course and, having determined its efficacy, undertook the task. For the next 26 years, Warren devoted all his considerable energies to advancing literacy through The Spalding Method. All who were privileged to know Warren remember a quiet, modest man with a dry sense of humor and piercing blue eyes. His keen interest in people and events revealed an unflagging intellectual curiosity. His kindness and generosity revealed a caring heart. Warren was a member of that "greatest generation" whose love of country, dedication to duty and adventurous spirit won a world war, restored vanquished nations and conquered space. He is survived by his loving wife Mary, children James, Mary, Susan, grandchildren Joshua and Jesse Griggs, Jimmy North, and Christina Doody.
---
---
Country: USA. Bibliography: 535.
---
---
Home - Search - Browse - Alphabetic Index: 0- 1- 2- 3- 4- 5- 6- 7- 8- 9
A- B- C- D- E- F- G- H- I- J- K- L- M- N- O- P- Q- R- S- T- U- V- W- X- Y- Z
---
© 1997-2017 Mark Wade - Contact
© / Conditions for Use
---