Home - Search - Browse - Alphabetic Index: 0- 1- 2- 3- 4- 5- 6- 7- 8- 9
A- B- C- D- E- F- G- H- I- J- K- L- M- N- O- P- Q- R- S- T- U- V- W- X- Y- Z
---
OS-1 (1965)
---
Part of OS
---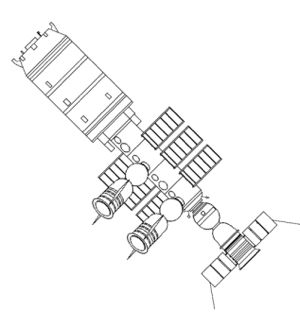 OS-1 Space Station
Credit: © Mark Wade
Russian manned space station. Reached mock-up stage, 1965.
Status: Mock-up 1965. Gross mass: 75,000 kg (165,000 lb). Height: 25.00 m (82.00 ft).
Following a meeting between Khrushchev and chief designers at Pitsunda, Khrushchev ordered the start of a project to put a 75 metric ton manned platform with nuclear weapons into low earth orbit (dubbed elsewhere as 'Battlestar Khrushchev'). Korolev was authorized to proceed immediately to upgrade the three stage N vehicle to a maximum 75 metric ton payload in order to launch the station. Work on the OS-1 began on 25 September 1962. By 1965 the mockup of the huge station had been completed.
This drawing shows the original OS-1 configuration according to the studies of American analyst Charles Vick.
Crew Size: 6. Habitable Volume: 510.00 m3.
---
---
Family
:
Earth
,
Soviet Space Stations
,
Space station
,
Space station orbit
.
Country
:
Russia
.
Launch Vehicles
:
N1
,
N1 1969
.
Agency
:
Korolev bureau
.
Bibliography
:
376
,
84
,
89
.
---
---
1962 September 25 -
.
Launch Vehicle
:
N1
.
---
1963 April 28 -
.
LV Family
:
N1
.
Launch Vehicle
:
N1 1964
.
N1 Plans - . Nation: Russia. Spacecraft: L3-1963, OS-1 (1965), TMK-1.

An Inter-Institution Soviet considers Korolev's N1 plans. He believes the first booster will be launched in 1965. The N1 is to have a payload capability of 75 tonnes to a 250 km altitude orbit, 50 tonnes to a 3000 km altitude orbit, and 16 tonnes in geostationary orbit. It could launch spacecraft capable of landing men on the moon and returning them to earth, or manned flybys of Mars or Venus. Three to ten launches would be needed for such missions, with the components being docked together in low earth orbit. The N1 can also be used to launch a large space station for military research. After the N1 discussion a decision is made that cosmonauts will not have to spend more than three to four days in a spacecraft mock-up on the ground to prove their readiness for flight. A simulation of the entire flight duration is not necessary.
---
---
Back to top of page
---
Home - Search - Browse - Alphabetic Index: 0- 1- 2- 3- 4- 5- 6- 7- 8- 9
A- B- C- D- E- F- G- H- I- J- K- L- M- N- O- P- Q- R- S- T- U- V- W- X- Y- Z
---
© 1997-2019 Mark Wade - Contact
© / Conditions for Use
---