Home - Search - Browse - Alphabetic Index: 0- 1- 2- 3- 4- 5- 6- 7- 8- 9
A- B- C- D- E- F- G- H- I- J- K- L- M- N- O- P- Q- R- S- T- U- V- W- X- Y- Z
---
Pioneer 5
---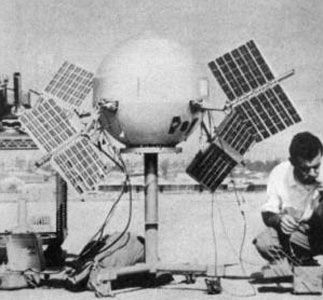 Pioneer 5
Credit: Manufacturer Image

American solar satellite. Pioneer 5 was designed to provide the first map of the interplanetary magnetic field. The vehicle functioned for a record 106 days, and communicated with Earth from a record distance of 36.2 million km.

Status: Operational 1960. First Launch: 1960-03-11. Last Launch: 1960-03-11. Number: 1 . Gross mass: 43 kg (94 lb). Height: 0.66 m (2.16 ft). Span: 1.40 m (4.50 ft).

Spacecraft: Spin stabilized. Four deployed/fixed solar paddles providing 16 watts.
---
---
Subtopics
---
| | |
| --- | --- |
| | Pioneer 5 (P 2) Solar lander built by TRW Space Technology Laboratory (STL) for NASA, USA. Launched 1960. |
---
Family: Astronomy, Solar, Solar orbit. Country: USA. Launch Vehicles: Thor, Delta, Thor Able, Thor Able IV. Projects: Pioneer series. Launch Sites: Cape Canaveral, Cape Canaveral LC17A. Agency: NASA, USAF, TRW. Bibliography: 2, 279, 6, 6782.
---
---
1960 March 11 - . 13:00 GMT - . Launch Site: Cape Canaveral. Launch Complex: Cape Canaveral LC17A. LV Family: Thor. Launch Vehicle: Thor Able IV.
Pioneer 5 - . Payload: Pioneer P 2 / Able 6. Mass: 43 kg (94 lb). Nation: USA. Agency: NASA. Program: Pioneer. Class: Astronomy. Type: Solar satellite. Spacecraft: Pioneer 5. USAF Sat Cat: 27 . COSPAR: 1960-Alpha-1.

An Air Force Thor/Able IV booster launched the NASA Pioneer V spacecraft on its journey to Venus. The satellite measured radiation and magnetic fields between Earth and Venus. The last scientific measurements were transmitted back to Earth on 26 June, three and one-half months after launch, from almost 22.5 million miles in space. Pioneer V was by far the most successful space probe yet launched. AFBMD and Space Technology Laboratories managed the Pioneer V satellite, payload, and booster for NASA and provided launch services at Cape Canaveral. Solar research. Solar Orbit (Heliocentric). Spacecraft engaged in research and exploration of the upper atmosphere or outer space (US Cat B).
---
---
Home - Search - Browse - Alphabetic Index: 0- 1- 2- 3- 4- 5- 6- 7- 8- 9
A- B- C- D- E- F- G- H- I- J- K- L- M- N- O- P- Q- R- S- T- U- V- W- X- Y- Z
---
© 1997-2017 Mark Wade - Contact
© / Conditions for Use
---