Home - Search - Browse - Alphabetic Index: 0- 1- 2- 3- 4- 5- 6- 7- 8- 9
A- B- C- D- E- F- G- H- I- J- K- L- M- N- O- P- Q- R- S- T- U- V- W- X- Y- Z
---
RD-860
---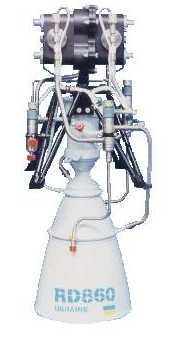 RD-860
Credit: Yuzhnoye

Yuzhnoye N2O4/UDMH rocket engine. Upper stages. Developed 1972. Engine used a novel scheme combining an existing proven combustion chamber but using a pneumatic pump for propellant supply.

Status: Developed 1972. Date: Developed late 1960's. Thrust: 5.90 kN (1,326 lbf). Specific impulse: 320 s. Burn time: 1,500 s.

This allowed:
Multiple restarts (up to 15)
Precision throttling of thrust to any value between 200 and 600 kgf simply by controlling the pneumatic pump, without the need for an elaborate control system with various pressure and flow sensors
Reduction in the gas needed for propellant feed was reduced by 1.4 to 1.7 times compared to conventional methods
High accuracy of mixture ratio maintenance
Stage tanks operated under low pressure
Thrust increase of existing thrust chambers by 1.4 to 1.8 x
Use of proven components from mass-produced engines such as combustion chamber, pneumatic pump elements, and control units
Throttled thrust(vac): 1.960 kN (441 lbf). Engine: 30 kg (66 lb). Oxidizer to Fuel Ratio: 2. Restarts: 15.
---
---
Subtopics
---
| | |
| --- | --- |
| | RD-869 Yuzhnoye N2O4/UDMH rocket engine. R-36M2 vehicle bus. Based on RD-864. Two thrust levels. The four thrusters swing out of the stage housing before use. Chamber pressure 41 / 17 bar. Diameter 3,0 / 4,02 m. First flight 1986. |
---
Family: Storable liquid. Country: Ukraine. Propellants: N2O4/UDMH. Agency: Yuzhnoye. Bibliography: 4477.
---
---
Home - Search - Browse - Alphabetic Index: 0- 1- 2- 3- 4- 5- 6- 7- 8- 9
A- B- C- D- E- F- G- H- I- J- K- L- M- N- O- P- Q- R- S- T- U- V- W- X- Y- Z
---
© 1997-2017 Mark Wade - Contact
© / Conditions for Use
---