Home - Search - Browse - Alphabetic Index: 0- 1- 2- 3- 4- 5- 6- 7- 8- 9
A- B- C- D- E- F- G- H- I- J- K- L- M- N- O- P- Q- R- S- T- U- V- W- X- Y- Z
---
Reid, Henry J E
---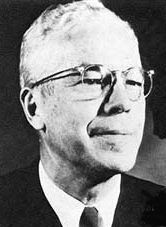 Reid
Credit: NASA

American engineer, at NASA 1921-1961, designed basic instruments for flight research.

Born: 1895-08-20. Died: 1968-07-01.

Henry J. E. Reid graduated from Worcester Polytechnic Institute in 1919 with a B.S. in electrical engineering. After a brief stint in private industry, he joined Langley Aeronautical Laboratory in 1921 as one of a small group of engineers and scientists then on the professional staff there. His principal field of research was the design and improvement of basic instruments for flight research. He became director of the center in 1926 and presided over the extensive growth that accompanied its becoming a leading aeronautical and space research facility. He retired in 1961.
---
---
Country: USA. Bibliography: 535, 5926.
---
---
1895 August 20 - .
---
1968 July 1 - .
---
---
Home - Search - Browse - Alphabetic Index: 0- 1- 2- 3- 4- 5- 6- 7- 8- 9
A- B- C- D- E- F- G- H- I- J- K- L- M- N- O- P- Q- R- S- T- U- V- W- X- Y- Z
---
© 1997-2017 Mark Wade - Contact
© / Conditions for Use
---