Home - Search - Browse - Alphabetic Index: 0- 1- 2- 3- 4- 5- 6- 7- 8- 9
A- B- C- D- E- F- G- H- I- J- K- L- M- N- O- P- Q- R- S- T- U- V- W- X- Y- Z
---
Rosenbaum, Mortimer
---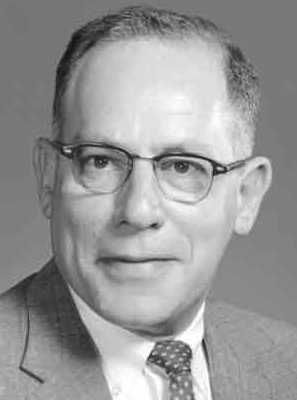 Rosenbaum
Credit: via Richard Martin

American engineer. After graduation from MIT, at Convair from 1935. Vice President of Engineering for the Atlas program, 1955-1969.

Born: 1914-04-18. Died: 2009-05-18. Birth Place: Plainfield, New Jersey.

Rosenbaum, son of an Austrian Jewish department store merchant, was a model airplane fiend as a boy. He graduated from the Massachusetts Institute of Technology in 1935 in aeronautical engineering, and joined Convair in 1936. He worked on aircraft structure stress analysis for Convair's seaplanes and airliners, eventually becoming Chief of its Structures group. This was followed by assignments as Project Engineer for the T-29 and C-131 aircraft. He was then assigned to the Atlas program, working in increasingly responsible management positions, culminating in Vice President of Engineering before leaving the Atlas program in 1965. He then became Convair's Director of Aircraft Programs, responsible for the F-106 interceptor and the experimental STOL Charger aircraft, a superior design that lost to the OV-10. Rosenbaum retired in 1969.

Biography

Obituary - Sign on San Diego, 24 May 2009 - ROSENBAUM, MORTIMER (MORT) Mort Rosenbaum passed away in Tucson, AZ, at the age of 95. A longtime resident of San Diego, he and his late wife, Lorraine, had moved to Tucson to be near family. Mort arrived in San Diego in 1935, after graduating from MIT with a degree in aeronautical engineering. He was employed by Consolidated Vultee, which later became Convair, as an engineer, and was a designer of World War II aircraft. He later was the project engineer for military fighter jets. Convair morphed into General Dynamics Astronautics, and Mort became chief engineer, responsible for the team which oversaw the design, building, testing and use of the Atlas missile. This was the missile which carried the Mercury astronauts on the first earth orbit flights. Mort retired from General Dynamics at 55. Bored with retirement, he became a lawyer, graduating from USD Law School as perhaps the oldest member of his class at 62. He practiced law for a number of years, interspersing helping his clients with traveling to many parts of the world. He owned and enjoyed a wide variety of sports cars, including Jaguar 120 and 140 roadsters, Mercedes 300 SLs, an Arnolt Bristol, Ferraris, and an Alfa Romeo. Because of his enthusiasm for sports cars, he helped found the Convair Sports Car Club and participated in many activities with the club, such as rallies, autocrosses, and driving tours. In his spare time, he volunteered with the San Diego Library Board and Jewish Family Service among other organizations. He loved to go sportfishing, though he disliked eating fish and he got painfully seasick. He knew how to make guests feel welcome and at home, and he could tell some great jokes. He was an accomplished equestrian, amateur wood worker, builder of model engines which actually worked, expert car repairman, and gardener, who raised orchids and flourishing fruit trees. He loved learning of any kind. He was a gifted linguist and was fluent in several languages, which he could still recall even in his 90s. He was very interested in any sort of new technology, loved messing about with the computer, and was attempting to master the Wii.
---
---
Country: USA. Bibliography: 4460, 4475.
---
---
1914 April 1 - .
---
---
Home - Search - Browse - Alphabetic Index: 0- 1- 2- 3- 4- 5- 6- 7- 8- 9
A- B- C- D- E- F- G- H- I- J- K- L- M- N- O- P- Q- R- S- T- U- V- W- X- Y- Z
---
© 1997-2017 Mark Wade - Contact
© / Conditions for Use
---