Home - Search - Browse - Alphabetic Index: 0- 1- 2- 3- 4- 5- 6- 7- 8- 9
A- B- C- D- E- F- G- H- I- J- K- L- M- N- O- P- Q- R- S- T- U- V- W- X- Y- Z
---
Ruppe, Kurt Oskar Harry
---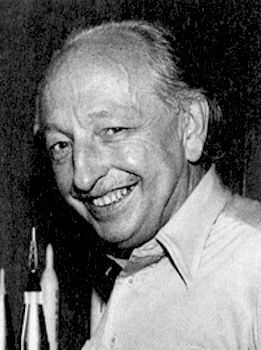 Ruppe
Ruppe, Kurt Oskar Harry

German space travel expert.

Born: 1929-05-09.

Ruppe graduated in physics at Leipzig after the Second World War. He transferred to the Technical University of Berlin. In 1957 Wernher von Braun asked him to join his rocket team in the United States, where Ruppe co-developed Pioneer 4, the first lunar probe. He continued to work in Huntsville during the Apollo program. He received his doctorate in 1963 from the Technical University of Berlin for his thesis on the cost of manned Mars expeditions. In 1966 he was appointed to the chair of Astronautics at the Technical University of Munich and remained there until retirement in 1994.
---
---
Country: Germany. Bibliography: 394.
---
---
Home - Search - Browse - Alphabetic Index: 0- 1- 2- 3- 4- 5- 6- 7- 8- 9
A- B- C- D- E- F- G- H- I- J- K- L- M- N- O- P- Q- R- S- T- U- V- W- X- Y- Z
---
© 1997-2017 Mark Wade - Contact
© / Conditions for Use
---