Home - Search - Browse - Alphabetic Index: 0- 1- 2- 3- 4- 5- 6- 7- 8- 9
A- B- C- D- E- F- G- H- I- J- K- L- M- N- O- P- Q- R- S- T- U- V- W- X- Y- Z
---
SkySat
CLICK HERE FOR CURRENT AND MORE COMPLETE INFORMATION
ON THIS TOPIC AT OUR PARTNER SITE
---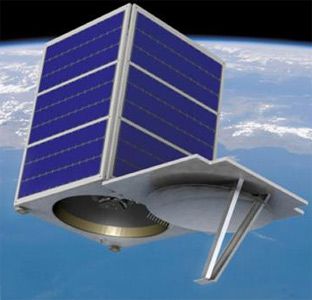 SkySat 1
Credit: Manufacturer Image

Commercial imaging satellite by the US company Skybox. The satellite produced sub-meter resolution imagery and high-definition video. It could capture up to 90-second video clips at 30 frames per second. The resolution was high enough to view objects like shipping containers while maintaining not tracking human activity. Earth Observation satellite built by Skybox Imaging for Skybox Imaging, USA. Launched 2013 - 2014.

Status: Operational 2013. First Launch: 2013-11-21. Last Launch: 2014-07-08. Number: 2 . Gross mass: 90 kg (198 lb). Apogee: 595 km (369 mi).
---
More at: SkySat.
---
Subtopics
---
---
Family: Surveillance. Country: USA. Launch Vehicles: R-7, Dnepr, Soyuz-2-1B. Launch Sites: Baikonur LC31.
---
---
Home - Search - Browse - Alphabetic Index: 0- 1- 2- 3- 4- 5- 6- 7- 8- 9
A- B- C- D- E- F- G- H- I- J- K- L- M- N- O- P- Q- R- S- T- U- V- W- X- Y- Z
---
© 1997-2017 Mark Wade - Contact
© / Conditions for Use
---