Home - Search - Browse - Alphabetic Index: 0- 1- 2- 3- 4- 5- 6- 7- 8- 9
A- B- C- D- E- F- G- H- I- J- K- L- M- N- O- P- Q- R- S- T- U- V- W- X- Y- Z
---
Soyuz Kontakt A
---
Part of Lunar L3 Family
---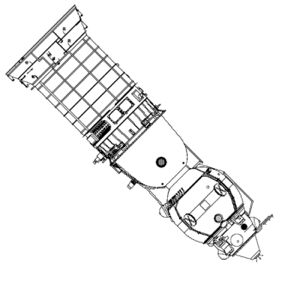 Soyuz LOK
Soyuz LOK lunar orbiter.
Credit: © Mark Wade

Final crews selected for a dual Soyuz mission in Earth orbit to test the Kontakt docking system to be used on the lunar landing LOK and LK spacecraft. The Kontakt-A Soyuz would have been the active spacecraft, simulating the LOK lunar orbiter.

Launched: 1973 Early. Number crew: 2 .
---
---
People: Filipchenko, Yazdovsky, Vorobyov, Gorbatko. Projects: Lunar L3.
---
---
---
Home - Search - Browse - Alphabetic Index: 0- 1- 2- 3- 4- 5- 6- 7- 8- 9
A- B- C- D- E- F- G- H- I- J- K- L- M- N- O- P- Q- R- S- T- U- V- W- X- Y- Z
---
© 1997-2017 Mark Wade - Contact
© / Conditions for Use
---