Home - Search - Browse - Alphabetic Index: 0- 1- 2- 3- 4- 5- 6- 7- 8- 9
A- B- C- D- E- F- G- H- I- J- K- L- M- N- O- P- Q- R- S- T- U- V- W- X- Y- Z
---
SpinSat
CLICK HERE FOR CURRENT AND MORE COMPLETE INFORMATION
ON THIS TOPIC AT OUR PARTNER SITE
---
Part of Shuttle Attached Payloads Family
---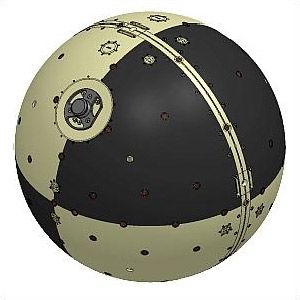 SpinSat
Credit: Manufacturer Image

SpinSat was a Naval Research Lab satellite to test new microthrusters for attitude control. The Japanese JEM-RMS robot arm extracted the SSIKLOPS (Cyclops) deployer and its attached SpinSat satellite from the Kibo airlock and positioned it for deployment. The Cyclops then ejected SpinSat into orbit. Technology, research (Atmospheric density), radio amateur communications satellite built by NRL for NRL, Space Test Program, USA. Launched 2014.

Status: Operational 2014. First Launch: 2014-11-28. Last Launch: 2014-11-28. Number: 1 . Gross mass: 50 kg (110 lb). Apogee: 415 km (257 mi).
---
More at: SpinSat.
---
Family: Technology. Country: USA.
---
---
Home - Search - Browse - Alphabetic Index: 0- 1- 2- 3- 4- 5- 6- 7- 8- 9
A- B- C- D- E- F- G- H- I- J- K- L- M- N- O- P- Q- R- S- T- U- V- W- X- Y- Z
---
© 1997-2017 Mark Wade - Contact
© / Conditions for Use
---