Home - Search - Browse - Alphabetic Index: 0- 1- 2- 3- 4- 5- 6- 7- 8- 9
A- B- C- D- E- F- G- H- I- J- K- L- M- N- O- P- Q- R- S- T- U- V- W- X- Y- Z
---
Stewart, Homer J
---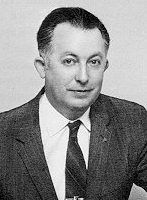 Stewart Homer
Credit: NASA

American engineer, worked on rocketry and robotic space exploration at Caltech, JPL, and NASA 1938-1980. Original member of the Caltech rocket team, later Chief of JPL's Liquid Propulsion Systems Division, involved in the build and launch of the Explorer 1 satellite.

Born: 1915-08-15. Died: 2007-05-26.

Homer J. Stewart earned his doctorate in aeronautics from Caltech in 1940, joining the faculty there two years before that. In 1939 he participated in pioneering rocket research with other Caltech engineers and scientists, including Frank Malina, in the foothills of Pasadena. Out of their efforts, the Jet Propulsion Laboratory (JPL) arose, and Stewart maintained his interest in rocketry at that institution. He was involved in developing the first American satellite, Explorer I, in 1958. In that year, on leave from Caltech, he became director of NASA's program planning and evaluation office, returning to Caltech in 1960 to a variety of positions, including chief of the advanced studies office at JPL from 1963 to 1967 and professor of aeronautics at Caltech itself.

Biography

Obituary - Caltech whiz helped get satellites off ground - Engineer - Homer J. Stewart, 91, played a key role in the early years of the U.S. space program - Sunday, June 17, 2007 - THOMAS H. MAUGH II

Homer J. Stewart, the California Institute of Technology engineer who helped develop many of America's first satellites, died May 26 at his home near Pasadena, Calif. He was 91.

Stewart played a key role in developing the Explorer I satellite and had a hand in the development of the WAC Corporal, Corporal, Sergeant and Jupiter C rockets.

When the National Aeronautics and Space Administration was formed, he took a two-year leave of absence from Caltech to serve as director of planning and evaluation for the new agency. His specialty was analyzing the rocket exhaust velocities required to lift a rocket into orbit and allow it to enter the correct orbit.

He also made recommendations for planning what would become the Apollo series of missions to the moon. NASA awarded him its Exceptional Service medal in 1970.

Born in Elba, Mich., Stewart earned his bachelor's degree at the University of Minnesota in 1936, then moved to Caltech for his graduate studies in aeronautics. He joined a small group of faculty, including rocket pioneer Theodore von Karman, who began testing rockets in the foothills of the San Gabriel Mountains north of the Pasadena campus.

This group was the nucleus of the research group that eventually became the Jet Propulsion Laboratory.

Stewart joined the Caltech faculty in 1938, two years before receiving his doctorate, and remained until his retirement in 1980.

He was chief of JPL's liquid-propulsion-systems division when JPL and the Army Ballistic Missile Agency, now the Marshall Space Flight Center, developed and launched Explorer I on Jan. 31, 1958 -- the first U.S. satellite to reach orbit.

The Soviet Union had launched its own satellite, Sputnik, the previous October, kicking off what came to be known as the space race. V In 1959, Stewart and former German rocket scientist Wernher von Braun testified before Congress that American researchers were 12 to 20 months behind the Soviets in the development of space technology.

Stewart said Soviet missiles had become sufficiently accurate to target U.S. cities from 5,000 miles away.

Stewart also recommended Cape Canaveral, Fla., as a launching site for long-range rockets and, eventually, for putting rockets into orbit. The military originally preferred Southern California, but the Mexican government refused permission for missiles to fly through its air space.

He said the cape was "just perfect" because of the long flying corridor over the Atlantic Ocean.

Stewart also conducted research in wind-driven energy, joining with von Karman to build a turbine known as "Grandpa's Knob" in the mountains of Vermont in the late 1930s. The installation generated up to a megawatt of power and operated successfully through World War II, but it was abandoned after the war because of the easy availability of cheap fossil-fuel energy.
---
---
Country: USA. Bibliography: 535.
---
---
Home - Search - Browse - Alphabetic Index: 0- 1- 2- 3- 4- 5- 6- 7- 8- 9
A- B- C- D- E- F- G- H- I- J- K- L- M- N- O- P- Q- R- S- T- U- V- W- X- Y- Z
---
© 1997-2017 Mark Wade - Contact
© / Conditions for Use
---