Home - Search - Browse - Alphabetic Index: 0- 1- 2- 3- 4- 5- 6- 7- 8- 9
A- B- C- D- E- F- G- H- I- J- K- L- M- N- O- P- Q- R- S- T- U- V- W- X- Y- Z
---
STS-62-A
---
Part of STS
---
---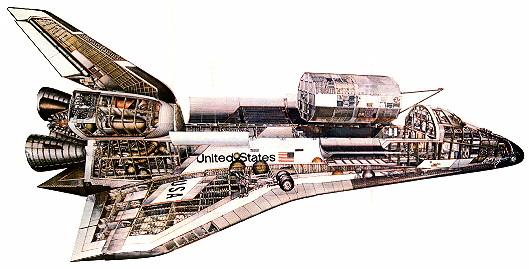 Shuttle cutaway
Shuttle cutaway showing deployment of LDEF
Credit: NASA
---
Planned Department of Defense shuttle mission. Cancelled after Challenger disaster. Would have been first launch from the ill-fated SLC-6 launch site at Vandenberg, California.
Launched: 1986 July. Number crew: 7 .
George Abbey angered the USAF when he assigned Navy pilot Crippen as crew commander. Abbey would not give in on Crippen but finally agreed that the majority of the balance of the crew would be USAF. Immediately after the funeral for the astronauts from the Challenger disaster word already was already out that the Air Force would cancel the military shuttle program and switch to its preferred expendable vehicles. The later 'controversy' about Vandenberg launch facilities being 'unsafe' for shuttle launches was just a fig leaf.
---
More at: STS-62-A.
---
People
:
Crippen
,
Aldridge
,
Mullane
,
Gardner, Guy
,
Ross
,
Gardner
,
Watterson
,
Odle
.
Projects
:
STS
.
Bibliography
:
4457
.
---
---
1986 July -
.
---
---
Back to top of page
---
Home - Search - Browse - Alphabetic Index: 0- 1- 2- 3- 4- 5- 6- 7- 8- 9
A- B- C- D- E- F- G- H- I- J- K- L- M- N- O- P- Q- R- S- T- U- V- W- X- Y- Z
---
© 1997-2019 Mark Wade - Contact
© / Conditions for Use
---