Home - Search - Browse - Alphabetic Index: 0- 1- 2- 3- 4- 5- 6- 7- 8- 9
A- B- C- D- E- F- G- H- I- J- K- L- M- N- O- P- Q- R- S- T- U- V- W- X- Y- Z
---
Symington, Stuart
---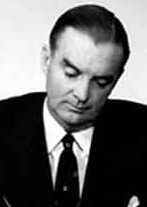 Symington
Credit: NASA

American politician, Senator 1953-1977, strong advocate of aerospace projects.

Born: 1901. Died: 1988-01-01.

Stuart Symington (D-MO) served in the Senate between 1953 and 1977. He entered government in 1945 when his fellow Missourian, Harry S. Truman, appointed him chair of the Surplus Property Board. He later served Truman as secretary of the Air Force and was an outspoken advocate of building a strong aerospace presence. As such, he repeatedly charged the Eisenhower administration with balancing the budget at the expense of national security and was one of its most vocal critics after the launch of Sputnik, predicting what proved to be a fallacious missile gap between the U.S. and the Soviet Union. He left the Senate in 1977.
---
---
Country: USA. Bibliography: 535, 6084.
---
---
Home - Search - Browse - Alphabetic Index: 0- 1- 2- 3- 4- 5- 6- 7- 8- 9
A- B- C- D- E- F- G- H- I- J- K- L- M- N- O- P- Q- R- S- T- U- V- W- X- Y- Z
---
© 1997-2017 Mark Wade - Contact
© / Conditions for Use
---