Home - Search - Browse - Alphabetic Index: 0- 1- 2- 3- 4- 5- 6- 7- 8- 9
A- B- C- D- E- F- G- H- I- J- K- L- M- N- O- P- Q- R- S- T- U- V- W- X- Y- Z
---
System 49-M
---
Part of System 49 Family
---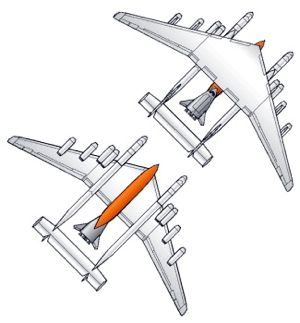 49M Top/Bottom Views

Russian winged orbital launch vehicle. The 49M was an application of the system 49 design concept, but with a larger carrier aircraft. The system would have a 770 metric ton gross takeoff mass.

Status: Study 1981. Payload: 9,000 kg (19,800 lb). Gross mass: 400,000 kg (880,000 lb). Apogee: 200 km (120 mi).

The orbiter/rocket stage combination weighted 370 metric tons. The tripropellant single rocket stage was equipped 1 x NK-43 / 11D112 engine burning LOx/Kerosene and 2 x RD-57 / 11D57 engines burning LOx/LH2. The orbiter could have one or two crew, and was designed for 100 reuses. The orbiter mass was 28 metric tons in orbit, including a 9 metric ton payload in a 8.0 m x 3.3 m diameter payload bay.

Development costs for the new heavy lift aircraft and larger orbiter would be too high, and the design was abandoned in favor of the Bizan concept.

LEO Payload: 9,000 kg (19,800 lb) to a 200 km orbit at 51.00 degrees.
---
---
Family: aircraft-launched, orbital launch vehicle, Spaceplane, Winged. Country: Russia. Launch Vehicles: System 49, System 49-M. Agency: Molniya bureau. Bibliography: 458.
---
Photo Gallery
---
---
| | |
| --- | --- |
| | 49M |
---
---
---
Home - Search - Browse - Alphabetic Index: 0- 1- 2- 3- 4- 5- 6- 7- 8- 9
A- B- C- D- E- F- G- H- I- J- K- L- M- N- O- P- Q- R- S- T- U- V- W- X- Y- Z
---
© 1997-2017 Mark Wade - Contact
© / Conditions for Use
---