Home - Search - Browse - Alphabetic Index: 0- 1- 2- 3- 4- 5- 6- 7- 8- 9
A- B- C- D- E- F- G- H- I- J- K- L- M- N- O- P- Q- R- S- T- U- V- W- X- Y- Z
---
TKS-3
---
Part of Almaz Family
---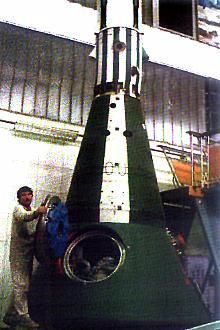 TKS capsule
TKS capsule at Khrunichev factory.
Credit: Khrunichev

Third TKS flight that would have docked with the cancelled Almaz OPS 4 military space station. The spacecraft was instead flown unmanned to Salyut 7 as Cosmos 1686.

Launched: 1981 Late. Number crew: 3 .

For that mission the VA reentry capsule was retained but stripped of its heat shield and all recovery equipment. In their place military optical test sensors (infrared telescope and Ozon spectrometer) were installed.
---
More at: TKS-3.
---
People: Preobrazhensky, Rozhdestvensky, Grechanik, Yuyukov, Sarafanov, Vasyutin. Country: Russia.
---
Photo Gallery
---
---
Cos1663D
TKS - Cosmos 1663 Configuration. The recovery systems of the VA capsule were replaced with military space sensors.
Credit: © Reginaldo Miranda Jr
---
---
---
1981 Late - .
---
---
Home - Search - Browse - Alphabetic Index: 0- 1- 2- 3- 4- 5- 6- 7- 8- 9
A- B- C- D- E- F- G- H- I- J- K- L- M- N- O- P- Q- R- S- T- U- V- W- X- Y- Z
---
© 1997-2017 Mark Wade - Contact
© / Conditions for Use
---