Home - Search - Browse - Alphabetic Index: 0- 1- 2- 3- 4- 5- 6- 7- 8- 9
A- B- C- D- E- F- G- H- I- J- K- L- M- N- O- P- Q- R- S- T- U- V- W- X- Y- Z
---
Yastreb
---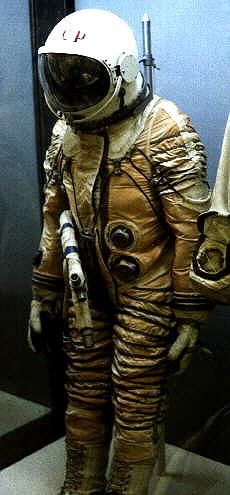 Yastreb space suit
Yastreb space suit
Credit: Andy Salmon
Russian space suit, operational 1969. The Yastreb suit was the first suit designed in the Soviet Union for extra-vehicular activity. Design began in 1965. Initially to be worn on the aborted Soyuz 1/2 1967 crew transfer mission.
Status: operational 1969.
It was only worn on the Soyuz 4/5 mission, the EVA on Soyuz 7/8 having been cancelled when the spacecraft failed to dock. Yastreb's regenerative life support system was small, designed to be worn on the chest or on the shin, in order to allow the cosmonaut to get through the relatively small Soyuz orbital module hatch. A complex pulley system was used to provide the suit with flexibility.
---
---
Family
:
Space Suits
.
Country
:
Russia
.
Agency
:
Zvezda Design Bureau
.
Bibliography
:
376
.
---
---
1966 July 12 -
.
Soyuz crews - . Nation: Russia. Related Persons: Mishin, Tsybin. Program: Soyuz. Spacecraft: Yastreb.

Kamanin meets with Tsybin (Mishin being unavailable on 'command' activities). For over two hours they argue about Soyuz crew plans. Kamanin finds it absurd that OKB-1 thinks they can turn engineers into spacecraft commanders with two to three months training, when it takes the VVS two to four years. He also declares himself categorically opposed to sending crew out on spacewalks with serious health defects. He tries to impress on Tsybin that it will be fatal to send men into space without medical screening, centrifuge and zero-gravity screening and training. It would be insane to send men out into open space to conduct work without training on representative equipment, dressed in a spacesuit, in a zero-G aircraft. He declares himself ready to train candidates selected by the Academy of Science and MOM as cosmonauts, but only on a sensible and professional basis, not a crash program. Kamanin senses that Tsybin realises the fallacy of MOM's position, but he is only following the orders of Mishin, Tyulin, and Korolev before them. He promises to discuss the matter again with Mishin.
---
1966 July 20 -
.
Heated exchange with Mishin - . Nation: Russia. Related Persons: Darevskiy, Komarov, Mishin, Severin. Program: Soyuz. Flight: Soyuz 1, Soyuz 2A, Soyuz s/n 3/4. Spacecraft: Yastreb.

Kamanin and VVS officers spend more than two hours in a heated exchange with Mishin and his staff at OKB-1. Mishin is attacked for delays in completion of Soyuz; his demand that OKB-1 cosmonauts be trained in VVS zero-G aircraft without any agreement on this having been reached; the lack of work on spacesuits for the Soyuz flights by Severin; and above all his "illegal" training of his own cosmonauts. Mishin responds with wild attacks against the competence of Kamanin's cosmonauts, saying that his engineers could better guide a spacecraft to a docking than Kamanin's pilots. Finally things cool down, and Mishin agrees to submit to Kamanin a list of OKB-1 candidates for cosmonaut training within two to three days. Kamanin agrees to consider how they may be prepared for flight on a two-month schedule.

Later Kamanin's group visits Darevskiy at MAP and reviews the status of Soyuz trainer completion. He promises to have them completed by the end of August. Finally Kamanin confronts Komarov over statements he made in Japan. Komarov admits telling the world press that the Soviet Union will, at the scheduled time, fly an automated spacecraft around the moon and return it to earth, to be followed by a dog flight, then a manned circumlunar flight. Kamanin has already had the Central Committee and Soviet Ministers calling him about this unauthorised disclosure.
---
1966 July 25 -
.
VVS Victory on Soyuz crew issue - . Nation: Russia. Related Persons: Gorbatko, Khrunov, Kolodin, Malinovskiy, Mishin, Severin, Tyulin, Voronov. Program: Soyuz. Flight: Soyuz 1, Soyuz 2A, Soyuz s/n 3/4. Spacecraft: Yastreb.

Tyulin advises Kamanin that Ustinov has instructed Mishin to accept that Soyuz spacecraft will be commanded by a VVS pilot cosmonaut, with OKB-1 providing cosmonauts for the engineering support role. Mishin is to immediately send four candidates from OKB-1 to Kamanin for cosmonaut training. Kamanin feels this is only a 50% victory, and vows to accelerate submission of the letter from Malinovskiy to the Central Committee, demanding that the support cosmonaut seats also be filled by trained VVS engineer cosmonauts (e.g. Khrunov, Gorbatko, Voronov, and Kolodin). Meanwhile spacesuit designer Severin informs Kamanin that OKB-1 has insisted that the outer hatch of Soyuz will remain at 660 mm diameter, even though he has told them for a long time that the minimum diameter for a cosmonaut in spacesuit with a life support system backpack is 700 mm. Kamanin agrees to support him, but notes the change can only be made in later spacecraft; it is too late to change the first production run.
---
1966 July 26 -
.
Soyuz hatch problem - . Nation: Russia. Related Persons: Alekseyev, Semyon, Anokhin, Gorbatko, Khrunov, Komarov, Mishin, Severin, Sharafutdinov, Shcheglov, Skvortsov, Smirnov, Tsybin, Yeliseyev. Program: Soyuz. Flight: Soyuz 1, Soyuz 2A, Soyuz s/n 3/4. Spacecraft: Soyuz 7K-OK, Yastreb.

Training of the new cosmonaut cadre is reviewed. English language courses are proving to be a particular problem. There have been some potential washouts - Sharafutdinov has done poorly in astronomy, Shcheglov suffered an injury at the beach, Skvortsov damaged his landing gear on a MiG-21 flight.

At 15:00 a major review is conducted, with Komarov, Khrunov, Gorbatko, Kamanin, and other VVS officer meeting with OKB-1 leaders Mishin, Tsybin, Severin, Alekseyev, Anokhin, and other engineers. Film is shown of the difficulties in the zero-G aircraft of cosmonauts attempting to exit from the 660 mm diameter hatch. In four sets of ten attempts, the cosmonaut was only to get out of the hatch half the time, and then only with acrobatic contortions - the inflated suit has a diameter of 650 mm, only 10 mm less than the hatch. Mishin finally concedes the point. But installation of the hatch in Soyuz s/n 3 and 4 is not possible - the spacecraft are essentially complete, and to add the hatch would delay their flight 6 to 8 months. Then Mishin makes the astounding assertion that Gorbatko and Khrunov are not adequately trained to be engineer-cosmonauts, and without this he will not allow them into space. He suggests OKB-1 engineers Anokhin and Yeliseyev instead. After outraged response, Severin finally sinks this suggestion by pointing out that no space suit has been prepared for Anokhin, and that it will take two to three months to make one. Kamanin is astounded that Mishin has pushed Anokhin all the way up to Smirnov and the VPK without even knowing he could not possibly fly due to this restriction. It again points out their poor management. Finally Mishin agrees that spacecraft s/n 5 and 6 and on will have 720 mm hatches. The ECS for the suits for those missions will have to be changed from a backpack configuration, with the equipment rearranged around the waist of the cosmonaut. The crews for the flight will be an experienced VVS pilot cosmonaut as commander, and (Kamanin realizes he may have to concede) a VVS engineer as flight engineer cosmonaut. They will have to complete training by 1 October 1966.
---
1966 July 30 -
.
Beregovoi pushed for Soyuz mission - . Nation: Russia. Related Persons: Anokhin, Beregovoi, Burnazyan, Gagarin, Keldysh, Khrunov, Krylov, Malinovskiy, Mishin, Rudenko, Shonin, Tsybin, Tyulin, Vershinin, Volynov, Zakharov. Program: Soyuz, Voskhod. Flight: Soyuz 1, Soyuz 2A, Soyuz s/n 3/4, Voskhod 3. Spacecraft: Soyuz 7K-OK, Yastreb.

Mishin, Rudenko, and others have met with Beregovoi and support his selection as commander for the first Soyuz mission. Kamanin does not believe he is fit for the assignment, due to his age, his height and weight (that are the limit of the acceptable for the Soyuz). Gagarin reports that during a visit to OKB-1 the day before, he discovered that they were still going all out to prepare their own crews and train their own cosmonauts for Soyuz flights. Kamanin reassures him that the full power of the VVS, the General Staff, and the Ministry of Defence is behind the position that only VVS pilots will command the missions. Mishin is gloating over the latest spacesuit tests. Khrunov tried exiting from the Soyuz hatch in the Tu-104 zero-G aircraft. Using his full dexterity and strength, he had more success than in earlier tests. But Kamanin notes that designing a spacecraft hatch only 10 mm wider than the cosmonaut is hardly the basis for practical spaceflight or training. Later Kamanin plays tennis with Volynov and Shonin. Their Voskhod 3 flight is still not officially cancelled. They have been fully trained for the flight for months now, but no go-ahead is given. On Saturday, Tsybin presents to the General Staff OKB-1's concept for training of engineer cosmonauts. Tyulin, Burnazyan, and Keldysh have approved the plan, except they have substituted VVS engineer cosmonauts for those from OKB-1 for the first Soyuz flights. So this is the result of months of controversy - a position that there is no fundamental opposition to cosmonaut candidates from OKB-1. Kamanin sees the absolute need for his draft letter to be sent from the four Marshals (Malinovskiy, Zakharov, Krylov, and Vershinin) to the Central Committee. Mishin continues to "assist" the situation - it has been two weeks since he promised to submit the names and documentation for his candidates to the VVS, and he has done nothing.
---
1966 August 5 -
.
Showdown on spacesuits - . Nation: Russia. Related Persons: Alekseyev, Semyon, Anokhin, Bushuyev, Bykovsky, Gagarin, Gorbatko, Khrunov, Komarov, Litvinov, Mishin, Nikolayev, Severin, Tsybin, Yeliseyev. Program: Soyuz. Flight: Soyuz 1, Soyuz 2A, Soyuz s/n 3/4. Spacecraft: Soyuz 7K-OK, Yastreb.

At a meeting at LII MAP Zazakov, Litvinov, Mishin, Tsybin, Bushuev, Severin, Alekseyev, and Komarov spar over the hatch and spacesuit problem. Severin only agrees to modifying the ECS under immense pressure, but the modified suit will not be ready until November. Severin could not get Mishin to agree to an increased hatch diameter from Soyuz s/n 8 - Mishin will only "study the problem". An arrangement of the ECS around the waist of the cosmonaut is finally agreed. Mishin and Litvinov categorically rejected any modification of the hatch in the first production run of Soyuz.

In turn, Factory 918 insisted on a final decision on Soyuz crews. They cannot build 16 of the custom-built spacesuits for all possible candidates for the flights (8 from VVS and 8 from OKB-1). It was therefore agreed that the commanders of the first two missions would be Komarov and Bykovsky, with Nikolayev and Gagarin as their backups. It was finally decided to assume that the other crew members would be either Khrunov and Gorbatko from the VVS, or Anokhin and Yeliseyev from OKB-1.
---
1966 August 23 -
.
Soyuz recovery training at sea - . Nation: Russia. Related Persons: Afanasyev, Sergei, Burnazyan, Bykovsky, Gorbatko, Grechko, Keldysh, Khrunov, Kolodin, Komarov, Kubasov, Nikolayev, Smirnov, Volkov, Voronov. Program: Soyuz. Spacecraft: Soyuz 7K-OK, Yastreb.

Nikolayev, Bykovsky, Komarov, Khrunov, Gorbatko, Kolodin, and Voronov complete two parachute jumps each, with landing at sea. Training in sea-recovery by helicopter, with the cosmonauts in spacesuits, will be completed over the next two days. Smirnov is ready to sign a letter from Afanasyev, Burnazyan and Keldysh creating a new civilian cosmonaut training centre under the Ministry of Medium Machine Building, separate from the VVS centre. The letter is not coordinated with the Defence Ministry, and contradicts the letter sent by the four marshals to the Central Committee. Kamanin prepares a vigorous refutation of the letter's position. The physicians' board on OKB-1 candidates has only cleared Yeliseyev for flight - they could not agree on Volkov, Kubasov, and Grechko. OKB-1 only submitted four candidates for review, not the eight promised.
---
1966 September 7 -
.
Cosmonaut group leaders - . Nation: Russia. Related Persons: Anokhin, Belyayev, Gorbatko, Grechko, Khrunov, Kubasov, Popovich, Pravetskiy, Severin, Volkov, Yeliseyev. Program: Soyuz, Almaz. Flight: Soyuz 1, Soyuz 2A. Spacecraft: Almaz OPS, Soyuz 7K-L1, Soyuz VI, Yastreb.

Volkov, Grechko and Kubasov believe they can complete cosmonaut training in two months. Of course they know space technology, but Kamanin informs them that, with intensive training, they might be ready in one or two years. Popovich is assigned as leader of the Soyuz VI military spacecraft training group, and Belyayev as head of the Almaz military orbital station training group. Kaminin tells Severin to complete spaceuits for Khrunov and Gorbatko, but to ignore Mishin's orders to prepare suits for Anokhin and Yeliseyev. Anokhin has already been rejected due to his age and health, and Yeliseyev is still being tested. Kamanin reviews draft test programs for the UR-500K/L1 and N1-L3. He lines out statements inserted by Pravetskiy on joint training of cosmonauts by the MOM, Ministry of Public Health and VVS.
---
1966 November 20 -
.
Soyuz first flight plan - . Nation: Russia. Related Persons: Bykovsky, Feoktistov, Khrunov, Komarov, Pravetskiy, Rudenko, Yeliseyev. Program: Soyuz. Flight: Soyuz 1, Soyuz 2A. Spacecraft: Soyuz 7K-OK, Yastreb.

Feoktistov briefs the State Commission on the flight plan for the upcoming mission at 10:00. Each spacecraft will be in space for four days, and will demonstrate orbital manoeuvre, rendezvous and automatic spacecraft docking. If the passive vehicle can be placed in orbit within 20 kilometres of the previously launched active spacecraft, then docking can be accomplished on the first or second orbit of passive vehicle. If they are more than 20 kilometres apart, then 24 hours will be needed to manoeuvre the spacecraft to a rendezvous. Kamanin and Rudenko take a zero-G flight aboard the Tu-104 (Pravetskiy was bumped at the airfield "due to space limitations"). The Tu-104 needs good visibility of the horizon in order to fly the zero-G parabola. The aircraft is accelerated to maximum speed and then pulls up into a sharp climb (going from 7,000 to 10,000 m). At the end of the climb 20-25 seconds of weightlessness is available for training the cosmonauts. Komarov, Bykovsky, Khrunov and Yeliseyev are aboard today. Khrunov practiced moving from the BO living module of the passive vehicle to that of the active spacecraft. Yeliseyev practiced exiting and entering the BO hatches with his bulky spacesuit and 50- kilogram ECS system strapped to his leg.

Mishin receives an encrypted telegram from Okhapkin and Tsybin. They propose that one of the cosmonauts on the first mission will back away from the docked spacecraft on a 10-m long safety line and film the other cosmonaut moving from one spacecraft to the other. Kamanin believes only Khrunov (with more than 50 Tu-104 weightless flights), has enough training to accomplish the task. After a sauna with Rudenko and an attempt to watch a film (aborted due to projector failure), Kamanin takes a walk in a drizzly, evocative night. He visits the cottages used by Korolev and the cosmonauts for the first missions. A light burns in Korolev's cottage - Mishin is working late. Kamanin recalls his many confrontations with Korolev, but also remembers how well he managed people compared to Mishin. Even if he had already decided personally what to do, he took the time to listen to other opinions and everyone felt their views had been considered.
---
1966 November 25 -
.
Soyuz launch commission - . Nation: Russia. Related Persons: Belousov, Gagarin, Gorbatko, Kolodin, Mishin, Nikolayev. Program: Soyuz. Flight: Soyuz 1, Soyuz 2A. Spacecraft: Soyuz 7K-OK, Yastreb.

Gagarin, Nikolayev, Gorbatko, Kolodin and Belousov arrive at Tyuratam for Tu-104 zero-G training, while the prime crews successfully arrive at Moscow for simulator training. The State Commission meets. After extensive detailed reports, Mishin certifies that the boosters and spacecraft at 09:00 on 26 November. S/N 2 would be launched first, on 28 November at 14:00, followed by s/n 2 24 hours later. The go-ahead is given for launch. In zero-G tests, the reserve cosmonauts find it is necessary to grip the handrail from above with both hands to move easily with the ECS strapped to the leg. The previously approved method, with one hand on top, the other below the handrail, was only good with the ECS configured as a backpack. The hardest part of the EVA will be getting on the spacesuits beforehand, especially in achieving a seal between the gloves and the suit
---
1968 May 20 -
.
Tests to evaluate feasibility of '1+2' Soyuz mission profile. - . Nation: Russia. Related Persons: Feoktistov, Khrunov, Volynov, Yeliseyev. Program: Soyuz. Spacecraft: Soyuz 7K-OK, Yastreb.

Volynov conducts tests in a pressurised suit to see if it is possible to go from the SA capsule to the BO living module in a two-man crew transfer scenario. He shows it is not possible - exit from the SA to the BO is very unsafe, there is a good chance of getting stuck in the hatch. This shows it would be difficult or impossible for the spacecraft commander in the SA to go to the assistance of a single cosmonaut attempting to transfer from one Soyuz to another. Feoktistov proposes another alternative - launch of 3 cosmonauts in one Soyuz, one cosmonaut in another. After docking, a single cosmonaut would transfer from one Soyuz to another, but at least a second cosmonaut would be in the BO to assist him in case of difficulties. Two cosmonauts would return in each Soyuz capsule, meeting the reserve parachute mass limitations. This solution also takes care of a problem with the 1+2 scenario, in that it implied a crew consisting of Khrunov and Yeliseyev, but neither has been trained as a spacecraft commander. A crew could consist of Volynov and one of these, but then the problem is that no spacesuit has been fabricated for Volynov, and it requires two months to make one.
---
1968 May 29 -
.
Further tests to evaluate feasibility of '1+2' Soyuz mission profile. - . Nation: Russia. Related Persons: Khrunov, Mishin, Ustinov, Yeliseyev. Program: Soyuz. Spacecraft: Soyuz 7K-OK, Yastreb.

Khrunov tries to don the Yastreb space suit unassisted, in another test of the feasibility of a 1+2 Soyuz mission. He simply cannot accomplish the task in the four minute maximum time required. Mishin now has Ustinov interested in his 1+2 mission, with Yeliseyev to make a solo EVA from one Soyuz to another.
---
1968 November 20 -
.
Soyuz spacesuit review - . Nation: Russia. Related Persons: Beregovoi, Mishin. Program: Lunar L1, Soyuz. Flight: Soyuz 3, Soyuz 4, Soyuz 4/5, Soyuz 5. Spacecraft: Soyuz 7K-L1, Yastreb.

Kamanin attends an Yastreb spacesuit review with VVS doctors. The suit removes 200 cal/hour, but when the cosmonaut is exerting himself, he will generate 3 to 4 times more than this. So the cabin is chilled to 18 deg C prior to the EVA, and there will be lots of pauses during preparations to exit the spacecraft. The L1 cosmonaut-engineers at the meeting have little zero-G experience, and need to get a lot more. The new oxygen generating system for the L1 is still not complete. It will be 6 to 8 kg lighter than the old system (using calcium instead of the old material). Mishin insists that the new system should be completed and installed. Ground qualification testing will be completed on 1 January, but the system will not be flight-proven - Kamanin believes it needs test on low earth orbit missions before being adopted for lunar flights. Beregovoi's experience on Soyuz 3 is reviewed. He needed more time to adapt to zero-G before being required to attempt a docking. He had the impression he was upside-down and had intestinal tract problems.
---
1968 November 23 -
.
Soyuz 4/5 crew training - . Nation: Russia. Program: Soyuz. Flight: Soyuz 4, Soyuz 4/5, Soyuz 5. Spacecraft: Yastreb. The Soyuz crews complete training in the TBK-60 vacuum chamber and zero-G flights aboard the Tu-104. These show there exertion level in the Yastreb suit to be 600 to 900 kcal/hr - and the suit is rated to only 1/3 to 1/4 of that amount..
---
1968 December 17 -
.
The crews take their final examinations to qualify for the Soyuz 4/5 flights. - . Nation: Russia. Related Persons: Beregovoi, Gorbatko, Khrunov, Kuznetsov, Shatalov, Shonin, Volynov. Program: Soyuz. Flight: Soyuz 4, Soyuz 4/5, Soyuz 5. Spacecraft: Yastreb.

All pass. Volynov, Shatalov, and Khrunov do best; Gorbatko and Shonin make mistakes (for example stating that the spacesuit pressure is 35 atmospheres instead of 3.5 atmospheres). Kuznetsov had planned for Gagarin to be cosmonaut commander, and Beregovoi has been poorly prepared for the job. But he still plans to make Beregovoi his deputy in the position. The other cosmonauts bitterly oppose this decision, and spread stories of Beregovoi's incompetence.
---
1969 January 19 -
.
State Commission on Soyuz 4/5 - . Nation: Russia. Program: Soyuz. Flight: Soyuz 4, Soyuz 4/5, Soyuz 5. Spacecraft: Soyuz 7K-OK, Yastreb.

At 10:00 a State Commission convenes at Area 17. The mistakes made during the Soyuz 4/5 flight are reviewed. The EVA began with a closed valve on Khrunov's suit. The film camera was not activated, resulting in loss of one of the key propaganda points of the exercise.
---
1969 January 29 -
.
---
---
Back to top of page
---
Home - Search - Browse - Alphabetic Index: 0- 1- 2- 3- 4- 5- 6- 7- 8- 9
A- B- C- D- E- F- G- H- I- J- K- L- M- N- O- P- Q- R- S- T- U- V- W- X- Y- Z
---
© 1997-2019 Mark Wade - Contact
© / Conditions for Use
---