Home - Search - Browse - Alphabetic Index: 0- 1- 2- 3- 4- 5- 6- 7- 8- 9
A- B- C- D- E- F- G- H- I- J- K- L- M- N- O- P- Q- R- S- T- U- V- W- X- Y- Z
---
Hoover, Herbert H
---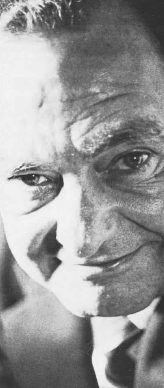 Hoover
American test pilot. Flew the XS-1 # 2. Died in B-45 crash in 1952.
Status: Inactive. Born: 1912-05-18. Died: 1952-08-14.
Official NASA Biography:
Herbert (Herb) Hoover graduated from the University of Tennessee in 1934 with a degree in Mechanical Engineering.
After graduation from the University of Tennessee, he was accepted by the Army Air Corps and trained at Randolph and Kelly Fields. He was then assigned to a tactical group at Mitchell Field. Because his position in the Army, as a Lieutenant, was temporary, he took the U.S. Civil Service exam in the spring of 1937, hoping to get a job with the Dept. of Agriculture. However, before anything with the Dept. of Agriculture materialized, he accepted a job with American Airlines and had even gone as far as being measured for his pilot's uniform when General Frank of Mitchell Field pulled some strings that resulted in Herb being offered a piloting job with the Standard Oil Company in South America. When he accepted the job with Standard Oil, he said he didn't want to become what he called a "taxi driver," serving at the beck and call of corporate officials who wished to be flown from place to place. Instead, upon arriving in Venezuela, he was put to work as an aero "truck driver," which involved hauling equipment, personnel, and hospital patients from camp to camp. Although there wasn't much difference between "taxi driver" and "truck driver" he had the opportunity to do more important aerial photography mapping of unexplored territory in the interior of Venezuela.
After three and a half years in South America, Herb yearned to return to the United States, which he did in December 1940 when he accepted a job as an experimental test pilot with the National Advisory Committee for Aeronautics (NACA) in Hampton, VA. Because of his experience flying through bad weather, he volunteered to test fly the XC-35 through thunderstorms. He became one of the first pilots to fly through thunderstorms deliberately on bad-weather flying research. He already had the reputation as a cool pilot in tight situations; once, during an instrumentation calibration flight in a NACA SB2C Helldiver, the plane's cockpit canopy hood came loose in flight smashing Hoover across the forehead inflicting a deep cut that bled profusely. Though stunned by the blow and blinded by blood flowing into his eyes, Hoover instinctively retained control of the dive bomber, cleared his eyes, and despite his injuries, brought the plane back to Langley for an emergency landing.
On another occasion, while he was firing a rocket-propelled model from a P-51 Mustang in a Mach 0.7 dive, the model disintegrated, showering the Mustang with wreckage. The wreckage punctured the plane's coolant tank, but again Hoover brought the plane in for a successful forced landing.
Soon, he was put in charge of all flight operations and then became chief test pilot for the NACA at the Langley Memorial Laboratory, in Hampton, VA. He flew more than a hundred different types of airplanes.
When the Air Force-NACA transonic flight research program began at the Muroc Flight Test Unit, California, Herb initiated the NACA flight operations of the Bell XS-1 (tail #6063) research airplane under Bell engineer, Robert Frost's careful tutelage in August 1947 and made his first NACA glide-familiarization flight on October 21, 1947, for stall check, (one week after Capt. Chuck Yeager became the first pilot to exceed the speed of sound in the AF XS-1, Tail # 6062). On Hoover's flight, the little rocket plane touched down hard on its nose wheel, and the landing strut collapsed. Repairs and subsequent maintenance work kept the XS-1 grounded until December 16, 1947, when Hoover made the first rocket flight ever performed by a NACA pilot, attaining Mach 0.71. He flew another checkout flight the next day reaching Mach 0.84. In January 1948, NACA pilots (Hoover and Howard Lilly) completed seven subsonic flights in their XS-1 and by the end of the month Hoover had reached Mach 0.925. On March 4, 1948, Hoover attained Mach 0.943 at 40,000 feet. Then, six days later, on March 10, 1948, Hoover dropped from the B-29 on a stability and loads investigation, fired three of the four rocket chambers and began to climb, leveling out at 42,000 feet. The NACA XS-1 rapidly accelerated to Mach 0.93 and Hoover fired the fourth chamber. Under full thrust, the rocket research aircraft shot to Mach l.065, approximately 703 mph. Herbert Hoover had become the first civilian pilot to exceed the speed of sound. After engine burnout, he coasted to the dry lake. Despite emergency efforts, Hoover found he could not extend the nose landing gear. He held off on the nose as long as possible, and even though the plane skidded to a stop on the underside of the nose, the damage was slight. On NACA powered flight 11, Herb became not only the first civilian, but the second person to exceed the speed of sound.
He received the Octave Chanute Award in 1948 for "contributions to the application of flight test procedures to basic research in aerodynamics, and the development of methods for scientific study of transonic flight." In 1949, he was awarded the Air Medal "for meritorious achievement while participating in aerial flight on March 10, 1948," when he first broke the sound barrier.
Herb flew the XS-1 in its exploratory tests in the transonic and supersonic range and was the flight instructor who trained other NACA pilots (Lilly, Bob Champine, and John Griffith) in the flying qualities of the XS-1 while flying back and forth from Langley to Muroc and maintaining his job as chief of the Langley research pilots.
Hoover lost his life on August 14, 1952, when the B-45 jet bomber he was flying on a mission to test various research instruments tore apart in mid-air and crashed near Barrowsville, VA. According to the accident report that was declassified 30-years later, Herb was almost certainly killed instantly when, after ejecting, his body collided in the air with portions of the crumbling plane. The ripcord of his parachute was not pulled. The co-pilot, John A. Harper, escaped with minor injuries.
---
---
Country
:
USA
.
Bibliography
:
5535
.
---
---
1912 May 18 -
.
Birth of Herbert H Hoover. - . Related Persons: Hoover. American test pilot. Flew the XS-1 # 2. Died in B-45 crash in 1952..
---
1947 October 21 -
.
---
1947 December 16 -
.
---
1947 December 17 -
.
---
1948 January 6 -
.
---
1948 January 8 -
.
---
1948 January 21 -
.
---
1948 January 23 -
.
---
1948 January 27 -
.
---
1948 March 4 -
.
---
1948 March 10 -
.
XS-1 Flight 73 - . Crew: Hoover. Payload: XS-1 # 2 flight 31. Nation: USA. Related Persons: Hoover. Class: Manned. Type: Manned rocketplane. Spacecraft: XS-1. NACA flight 11. First NACA supersonic flight. First civilian supersonic flight. Mach 1.065. Nosewheel failed to extend for landing. Minor damage..
---
1948 March 22 -
.
---
1948 March 30 -
.
---
1948 November 1 -
.
---
1948 November 15 -
.
---
1952 August 14 -
.
Death of Herbert H Hoover. - . Related Persons: Hoover. American test pilot. Flew the XS-1 # 2. Died in B-45 crash in 1952..
---
---
Back to top of page
---
Home - Search - Browse - Alphabetic Index: 0- 1- 2- 3- 4- 5- 6- 7- 8- 9
A- B- C- D- E- F- G- H- I- J- K- L- M- N- O- P- Q- R- S- T- U- V- W- X- Y- Z
---
© 1997-2019 Mark Wade - Contact
© / Conditions for Use
---