Home - Search - Browse - Alphabetic Index: 0- 1- 2- 3- 4- 5- 6- 7- 8- 9
A- B- C- D- E- F- G- H- I- J- K- L- M- N- O- P- Q- R- S- T- U- V- W- X- Y- Z
---
Meridian
---
Part of Glonass Family
---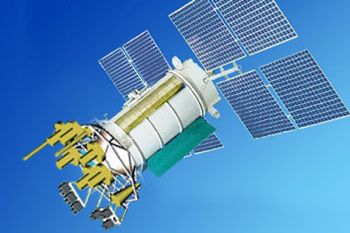 Meridian
Credit: Manufacturer Image

Russian new-generation military 12-hour elliptical orbit communications satellite designed to replace the Molniya series. Communication satellite built by ISS Reshetnev (ex NPO Prikladnoi Mekhaniki, NPO PM), Russia. Launched 2006 - 2014. Used 3-Axis stabilized Uragan-M bus.

Status: Operational 2006. First Launch: 2006-12-24. Last Launch: 2014-10-30. Number: 7 . Gross mass: 2,000 kg (4,400 lb).

Given its military nature, details remain classified. However numerous (sometimes conflicting) images of the satellite had appeared in the Russian media. The satellite reportedly retained the traditional pressurized electronics compartment and was three-axis stabilized.

Development of a Molniya replacement began before the collapse of the Soviet Union, with NPO-PM Reshnetev proposing its Mayak design, and Lavochkin its Nord concept. Both of these were initially designed for launch by the Zenit-3. By 1990-1992 the Zenit-2, being built in the Ukraine, was no longer considered for Russian military launches. It was proposed to launch either Mayak or Nord by the new Rus launch vehicle, but development of this was not forthcoming. However advances in electronics meant that the satellite could be down-sized; and sometime in the late 1990's NPO-PM was evidently contracted by the military to develop a lightweight version of Mayak that could be launched by the existing Soyuz/Fregat launch vehicle. First launch was made in 2006.
---
More at: Meridian.
---
Family: Communications, Military communications sat, Molniya orbit. Country: Russia. Launch Vehicles: R-7, Soyuz-2-1A, Soyuz-ST-B, Soyuz-2-1B. Launch Sites: Plesetsk, Plesetsk LC43/4, Plesetsk LC43/3. Agency: MOM, Reshetnev bureau. Bibliography: 1850, 2, 6699, 12821.
---
---
Home - Search - Browse - Alphabetic Index: 0- 1- 2- 3- 4- 5- 6- 7- 8- 9
A- B- C- D- E- F- G- H- I- J- K- L- M- N- O- P- Q- R- S- T- U- V- W- X- Y- Z
---
© 1997-2017 Mark Wade - Contact
© / Conditions for Use
---