Home - Search - Browse - Alphabetic Index: 0- 1- 2- 3- 4- 5- 6- 7- 8- 9
A- B- C- D- E- F- G- H- I- J- K- L- M- N- O- P- Q- R- S- T- U- V- W- X- Y- Z
---
Ofeq 5
---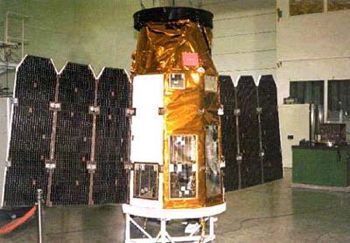 Ofeq-3
Credit: Manufacturer Image

Israeli military surveillance satellite. Ofeq-5 was said to be about 33% heavier than its predecessors. Reconnaissance, optical satellite built by IAI for Tsahal, Israel. Launched 2002-2010. Used OPSAT-2000 Bus.

Status: Operational 2002. First Launch: 2002-05-28. Last Launch: 2010-06-22. Number: 4 . Gross mass: 300 kg (660 lb). Height: 2.30 m (7.50 ft).

It was built by IAI/MBT for the Israeli Space Agency and carried an imaging reconnaissance camera. The Ofeq-5 telescope/camera was produced by El-Op Electro-Optic Industries, a subsidiary of Elbit Systems. The system - which acquired images underneath and lateral to the satellite and in swaths ahead of its trajectory - was bigger than that installed on the Ofeq-3 and could produce images with 0.8 meter resolution. The Ofeq-5 had a design life of four years.
---
More at: Ofeq 5.
---
Subtopics
---
| | |
| --- | --- |
| | EROS B Earth Observing satellite built by IAI for ImageSat International, Israel. Launched 2006. Used OPSAT-2000 Bus. |
---
Family: Military surveillance sat, Surveillance. Country: Israel. Launch Vehicles: Minuteman 3, Shaviyt, Shaviyt 1. Projects: Ofeq. Launch Sites: Palmachim. Agency: ISA, IAI, MBT. Bibliography: 2, 4, 552, 554, 6747, 12903.
---
---
Home - Search - Browse - Alphabetic Index: 0- 1- 2- 3- 4- 5- 6- 7- 8- 9
A- B- C- D- E- F- G- H- I- J- K- L- M- N- O- P- Q- R- S- T- U- V- W- X- Y- Z
---
© 1997-2017 Mark Wade - Contact
© / Conditions for Use
---