Home - Search - Browse - Alphabetic Index: 0- 1- 2- 3- 4- 5- 6- 7- 8- 9
A- B- C- D- E- F- G- H- I- J- K- L- M- N- O- P- Q- R- S- T- U- V- W- X- Y- Z
---
Serova, Yelena Olegovna
CLICK HERE FOR CURRENT AND MORE COMPLETE INFORMATION
ON THIS TOPIC AT OUR PARTNER SITE
---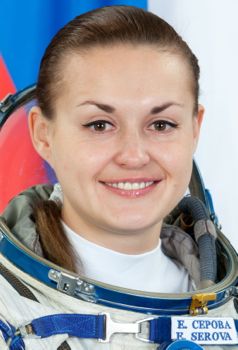 Serova
Serova, Yelena Olegovna

Russian engineer cosmonaut, 2006-2016. Wife of Mark Serov (2003 selection group) Graduate of MAI. Worked in TsUP Flight Control Center.

Status: Inactive; Active 2006-2016. Born: 1976-04-22. Spaceflights: 1 . Total time in space: 167.24 days. Birth Place: Vozdvizhenka, Saratov.

Official NASA Biography as of June 2016:Elena Olegovna Serova
Roskosmos Test Cosmonaut

PERSONAL DATA: Born April 22, 1976, in Vozdvizhenka, Ussurijsk Region of Primorsky Area, Russia.

EDUCATION: In March 2001 graduated from aerospace department of the Moscow Aviation Institute as a test engineer.

In 2003 graduated from the Moscow State Academy of instrument-making and information as an economist.

EXPERIENCE: Prior to selection to the Cosmonaut Corps Serova worked as a 2nd category engineer at the Energia Rocket Space Corporation and the MCC-Moscow.

COSMONAUT SELECTION DATE AND CLASS: On October 11, 2006, the Interdepartmental Board recommended that she be assigned to the Energia Rocket/Space Corporation Cosmonaut Corps as a cosmonaut candidate.

In February 2007 she started a two-year course of basic training for spaceflight.

In December 2006 by the order of the Ministry of Defense she was assigned to the GCTC Cosmonaut Corps as a test cosmonaut candidate.

On June 9, 2009, the Interdepartmental Board certified her as a test cosmonaut of the Energia Rocker and Space Corporation.

SCIENCE ACTIVITIES: Completed a postgraduate course at the Energia Rocket Space Corporation (extramural training).   

CURRENT STATUS: Since 2011 Serova is a test cosmonaut of the Roscosmos Cosmonaut Corps.

JANUARY 2013

Serova.
---
Family: Cosmonaut, Energia Engineer Group 16 - 2006, Women of Space. Country: Russia. Agency: TsUP. Bibliography: 6010.
---
---
Home - Search - Browse - Alphabetic Index: 0- 1- 2- 3- 4- 5- 6- 7- 8- 9
A- B- C- D- E- F- G- H- I- J- K- L- M- N- O- P- Q- R- S- T- U- V- W- X- Y- Z
---
© 1997-2017 Mark Wade - Contact
© / Conditions for Use
---