Home - Search - Browse - Alphabetic Index: 0- 1- 2- 3- 4- 5- 6- 7- 8- 9
A- B- C- D- E- F- G- H- I- J- K- L- M- N- O- P- Q- R- S- T- U- V- W- X- Y- Z
---
Progress M
---
Part of Soyuz Family
---
---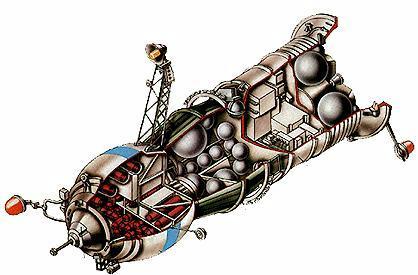 Progress M cutaway
Cutaway of Progress T resupply craft.
Credit: RKK Energia
---
Russian logistics spacecraft. Progress M was an upgraded version of the original Progress. New service module and rendezvous and docking systems were adopted from Soyuz T. Cargo satellite operated by RKK > RAKA, Russia. Launched 1989 - 2009.

AKA: 11F615A55;7K-TGM;VBK Raduga. Status: Operational 1989. First Launch: 1989-08-23. Last Launch: 2015-10-01. Number: 106 . Thrust: 3.92 kN (881 lbf). Gross mass: 7,450 kg (16,420 lb). Unfuelled mass: 6,550 kg (14,440 lb). Specific impulse: 305 s. Height: 7.23 m (23.72 ft). Span: 10.60 m (34.70 ft).

In 2008 the Progress M began flying with the new TsVM-101 computer in place of the old Argon-16. The TsVM-101 was much more capable, much smaller, and 9 times lighter (8.3 kg vs. 70 kg). In connection with this the analogue telemetry system was replaced by a smaller digital system. This modifications was originally planned in the late 1990's, but shelved for financial reasons. However the NII Argon design bureau discontinued production of the old computer, forcing RKK Energia to fund development of the TsVM-101 at NII Submikron in Tselinograd. Progress-M's equipped with the new computers received the new article number 11F615A60 with a new serial number series beginning with 401. The computers were installed in the service module.

Orbital Storage: 180 days. Electric System: 0.60 average kW.
---
More at: Progress M.
---
Family: Logistics spacecraft, Space station orbit. Country: Russia. Engines: KTDU-80. Spacecraft: ISS, Mir, Progress M OKD, Progress M GO, Progress M PAO, Progress M VBK. Launch Vehicles: R-7, Soyuz-U, Soyuz-U2, Soyuz-U-PVB, Soyuz-2-1A. Propellants: N2O4/UDMH. Launch Sites: Baikonur, Baikonur LC1, Baikonur LC31. Agency: Korolev bureau, RAKA. Bibliography: 2, 21, 275, 276, 279, 296, 32, 552, 554, 6, 12981, 12982, 12983.
---
Photo Gallery
---
---
Znamya-2
Credit: Dmitry Pieson
---
---
Progress M
Drawing of the advanced version of the Progress resupply spacecraft used with Mir.
Credit: © Mark Wade
---
---
Unknown capsule
unknown capsule at Energia Museum
Credit: © Mark Wade
---
---
Progress M
Drawing of the advanced version of the Progress resupply spacecraft used with Mir.
Credit: © Mark Wade
---
---
Progress capsule
Progress return capsule. Diagram illustrates separation from Progress during deorbit burn and recovery sequence.
Credit: © Mark Wade
---
---
Progress M Icon
Credit: © Mark Wade
---
---
Progress M-16
Credit: Manufacturer Image
---
---
Progress-MS 1 - 8
Credit: Manufacturer Image
---
---
Progress M
Progress TM in flight
Credit: RKK Energia
---
---
Progress M-15
Progress M-15 / Znamya
Credit: RKK Energia
---
---
Progress M-15
Progress M-15 / Znamya deployed
Credit: RKK Energia
---
---
Progress M-15
Progress deploys Zero-G structures experiment
Credit: RKK Energia
---
---
Progress M-15
Progress M-15 / Znamya deployment
Credit: RKK Energia
---
---
VBK Raduga
Credit: Manufacturer Image
---
---
---
Home - Search - Browse - Alphabetic Index: 0- 1- 2- 3- 4- 5- 6- 7- 8- 9
A- B- C- D- E- F- G- H- I- J- K- L- M- N- O- P- Q- R- S- T- U- V- W- X- Y- Z
---
© 1997-2017 Mark Wade - Contact
© / Conditions for Use
---